Excitement is now Doubled and earnings with A2Y Never ends, We are excited to tell our users that we have launched a New Referral Program for our Forum. Now not only get Free Recharges and Paytm Cash through earning Points on A2Y Forums but also win Free Prizes by Referring your best buddies. Lets know more.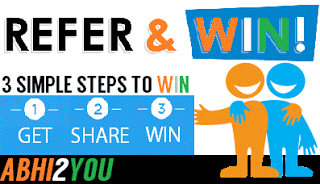 We will add some Weekly Prizes soon where our Top Board members will be wining Free Recharges / Paytm Cash each Week. Stay Tuned for our Next Update!


How to Get Started :-
Simply Visit here – http://forum.abhi2you.com/
Sign up for a New account and if you are already an A2Y Forum's Member ignore this step.
Just Hover onto it (Mobile Users tap on it) You will see your Referral code their.
Copy your Referral link and Share it with your Buddies.
Note – New Users are required to Verify their Email address (through the verification mail sent) in order to participate in A2Y Forum's Refer and Win Program. See Spam if you are not able to find it.
A2Y Referrals Leader-board Here – http://forum.abhi2you.com/members/?type=referral
Know your Referrals Here – http://forum.abhi2you.com/account/view-referral
Prizes to be Won :-
Monthly (Results on 1st December) :-
1st Rank- FREE 8 GB HP Pendrive through Amazon.
2nd – 3rd Rank – FREE A2Y Personalized Mugs from Zoomin.
4th – FREE Free Rs.100 mobile recharge
5th Rank – FREE Rs.50 mobile recharge
6th Rank – FREE 50 A2Y Credits
Winners :-
Mail us your details or send a direct message to me through A2Y Forum to claim your winnings. Email –
[email protected]
Get – Share – Win!

Our A2Y Forum's Referral System is as easy as "ABC", here "Get – Share – Win".
Frequently Asked Questions :-


Ques. What is A2Y Forums ?
Ans. You all must be aware of the term "Forum". It allows the best Platform to get all your solutions and you can share your thoughts with the world. In A2Y Forum's We Share best deals and loots offer and exclusive tricks. You can even Earn through our forum by just using it daily and completing small tasks. Share your Tricks / Deals with our Members and Visitors.
Ques. What Is Referral System??
Ans. In Referral System You have To give a referral link to your friend and if he signup using that link than , you get a referral.
Ques. What Will Be the benefits of Referring Friends ??
Ans. By Referring your friends , your friend can also enjoy all benefits of our forum and as well as you can be A2Y's Top Users and can win Free HP Pendrive / A2Y Mugs or Free Paytm Cash.
Ques. How many Friends You Can Refer??
Ans. Cheers! You Can Refer Unlimited Friends.
Ques. Where Can I see The Top Referrals (Leaderboard) ?
Ans. By Visiting This Link You Can See The Top Referrals :- www.forum.abhi2you.com/members/?type=referral
Ques. Can There Be any change in the Benefits Mentioned Above??
Ans. Yes Depending on the situations the benefits can be Modified.
Ques. I have Referred more Friends than the Top Referrer than also i am not the Top Referrer ? Why ?
Ans. We Only Counts The Verified Referrals , if u have referred a friend but your friend didn't registered here then that referral will not be counted until your friend register here. And also if your friend register himself on our forum but didn't verified his email then also it will be counted as an invalid referral.
Any more questions in your Mind ? Ask it below 🙂
Terms and Conditions :
1. We owns the right to disqualify any of the participant who violates our terms.
2. All Prizes are eligible only for selected participants – "No criteria will be applied"
3. Contest can be shutted and can be changed anytime.
4. We can anytime cancel your Free Gift / Free Reward if we found you guilty.
5. No Spams and no abusment will be entertained.
6. Prizes are as mentions and can be anytime charged based upon the owner.