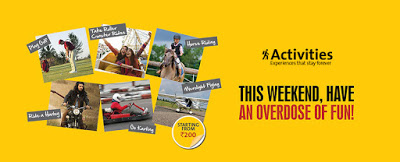 We are first time sharing an offer by ClearTrip! Get Rs.500 Discount coupon to book any of the activities available in your city or nearby you. Get amazed this weekend, Go to awesome activities with your friends and family for absolutely free.
Activities fares are starting From Rs.200 only, So get activity bookings upto Rs.500 almost for free, you just need to pay a fee amount of Rs.12-16 !
How to Avail the Offer :-
Open Cleartrip mobile app and go to the "Activities" section.
Select any Activity on the Cleartrip mobile app and proceed with the booking.
Enter the coupon code – "CTACT" & proceed with your payment.
Rs. 500 will be instantly deducted from the total fare during the payment process.
If the Activity is of Rs. 500 or below, you would need to pay a fee of Rs. 10.
The last date to book the Activity is 30 November, 2015.
P.S. Please note that the offer is valid only once.
The product & services offered by Cleartrip Private Limited are governed by the terms of use prescribed by Cleartrip on its site www.cleartrip.com & as amended from time to time.
Cleartrip reserves the right to change or withdraw the offer, anytime at the sole discretion of the Management.
The terms & conditions of this offer are subject to change without any prior notice.
Disputes are subject to Mumbai jurisdiction.