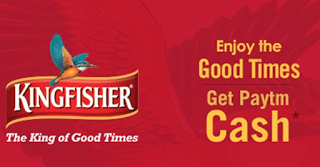 As before we came to know about Free Paytm cash offers on Yippie noodles / Emani Fair Handsome Cream / Bourbon Biscuits Etc. Now its time for our Alcoholic users who are used to drink beer!. Kingfisher Beer is offering free paytm cash with each pack. Paytm being "The Coolest Currency" you can use it anywhere you want to use.
How to Get The Offer :-
Grab a Kingfisher beer bottle from your nearest beer shop (Latest Addition with the Paytm Cash offer listed).
Enjoy your Beer and Get your "Cash Code" Printed inside the packet.
Now Visit Paytm Offer Page to Claim your Cash Prize
Sign in / Sign up to your Paytm Wallet.
Voila ! You git Rs.20 Paytm Cash Added in your Account.
Note – You can use this offer thrice from one paytm account.
Terms and Conditions :-
Participation in this Promotion namely, Paytm Kingfisher Offer ("Offer") is purely voluntary and optional.
This Offer is not valid in conjunction with any other Offer.
Products also available without this Offer.
By participating in this Offer, each participant is deemed to have accepted these terms and conditions.
This Offer is being conducted by United Breweries Ltd ("United Breweries") in association with One97 Communications Ltd.'s ("One97 or Paytm) (collectively referred to as Organizer) on One97's platform, namely www.Paytm.com ('website'), for Products defined hereinafter.
This Offer is valid in India from 20 Nov 2015 to 31st Dec 2015('Offer Period') on purchase of Kingfisher Beer Packs referred to as "Products" and on limited stocks only.
The Offer is valid for the citizens of India (except the employees and family members of United Breweries and One97, their associate companies, their joint venture partners, its co-packers, their distributors, their agents, their advertising and promotional agencies and their auditors.)
After purchasing the Products, the participant will get the Coupon code ("Code") through on the neck cover. After getting this Code, the participant can participate in the Offer in the following manner and avail Paytm Cash. Paytm cash is the term used to define Paytm cash that participant gets when he applies the code on Paytm website .
The cash earned this way is stored in the Paytm wallet and is used to purchase products/do recharges on Paytm website only.
No cash would be given in lieu of Paytm cash. On successful application of the Code a onetime addition of respective denomination (Rs 20) to user's Paytm wallet will be added. Each code is unique and can be used once.
A single user account can avail the offer three times.
The coupons would be valid till 31st Dec 2015 – User would not be able to avail the offer after that.