This Christmas Santa is coming, Offering Gifts for Re.1, Play Hunting Game with amazon, Crack clues and Gran Products from Santa at just Re.1. Amazon – being India's Most Visited eCommerce website is a place of trust and quality. Lets see how?
Amazon's App Treasure Hunt will be live on 22nd December at 8 AM till 8 PM 23rd December!
How to Avail the offer ?
Login to your amazon account and be ready for Amazon's App Treasure Hunt to begin.
Every 15 minutes amazon will provide you a new clues to grab your gift.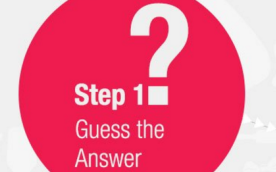 Try to crack the answers using the clue provided by Amazon.
In order to search for your answer use Amazon's Search & Filter tool.
Note – By the time of search for your answer don't expect the price shown will be Re.1 you have to open the appropriate product and there the "Lightening Deal" will be priced at Re.1 (Not actual price).
Now simply add the lightening deal product into your cart and proceed to pay.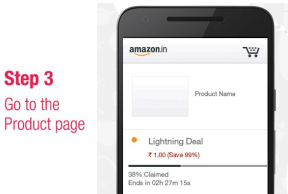 Now immediately complete the Payment process and place your order!
Day 2 Answers :-
7:45 PM – Flying Machine Wayfarer Sunglasses (Green) (FMS 082|107/108|Free Size)
Blockbuster Clue – Sony BRAVIA KLV-32R412C 80 cm (32 inches) HD Ready LED TV
7:30 PM – 18 Days Book
7:15 PM – Two Years, Eight Months and TwentyEight Nights: A Novel
Blockbuster Clue – Quechua Arpenaz 2 Tent (Blue)
7:00 PM – Maxima Uber Collection Analog White Dial Men's Watch – 35660PAG
6:45 PM – Steve Jobs
Blockbuster Clue – Kent Ultra UV Water Purifier
6:30 PM – Home Candy Eyelet Fancy Polyester 2 Piece Door Curtain Set – 84″x48″, Maroon (SOE-CUR-172_172)
6:15 PM – Sea of poppies by Amitav Ghosh
Blockbuster Clue – Story@Home Coral Collection Soft Printed Fleece Mink Double Bed Blanket, Green
6:00 PM – The Oath of the Vayuputras (Shiva Trilogy)
5:45 PM – Prestige Royale Three Brass Burners GT 03 L.P Gas Table with Glass Top
Blockbuster Clue – (Upcoming)
5:30 PM – The Official Bajrangi Bhaijaan Silver Pendant
5:15 PM – Jaya Devdutt Pattanaik
Blockbuster Clue – Philips 22PFL3958/V7 56 cm (22 inches) Full HD LED TV (black)
5:00 PM – Bajaj Pressure Cooker, 3 litres, Silver
4:45 PM – Captain America – The Winter Soldier
Blockbuster Clue – WWE 2K16 (PS4)
4:30 PM – Lakme Absolute Kohl Ultimate Kajal, 1.2g
4:15 PM – The Book Thief
Blockbuster Clue – Karbonn Titanium Machfive (Champagne)
4:00 PM – Lakme Eyeconic Kajal, Black (Pack of 3)
3:45 PM – Scion of Ikshvaku (Collector's Edition)- Personally Signed by Amish
Blockbuster Clue – Lenovo 10400mAH Power Bank (White)
3:15 PM – Philips Satinelle Epilator HP6421/00
3:00 PM – The Rozable Line/Chanakya's Chant/The Krishna Key Box set
Blockbuster Clue – Karbonn Machone Titanium S310 (Dark Blue)
2:45 PM – Wonderchef Turbo Dual Speed Food Processor with Peeler Plastic Carrot Grater and Slicer (Black)
2:30 PM – Sid Meier's Civilization
Blockbuster Clue – Superware Morning Glory Dinner Set – 38 pieces
2:15 PM – Learn through patience, energy and time
2:00 PM – The Amazing Spiderman 2 Blu Ray
Blockbuster Clue – WowWee Mip The First balancing Robot Black
1:45 PM – Philips Kerashine HP8316/00 Hair Straigthener (Black)
1:30 PM – After Earth
Blockbuster Clue – Micromax Canvas Juice 2 AQ5001
1:15 PM – Maxima Ego Analog Black Dial Men's Watch with Sunglasses, Wallet, Laxmi Ganesh Idol and a Greeting Card – (E-01062COMBO)
1:00 PM – Parker IM Metal Black Chrome Trim Roller Ball Pen Gift Set – Blue Ink, with Card Holder
Blockbuster Clue – Timex Weekender Analog Blue Dial Unisex Watch – TW2P657006S
12:45 PM – VLCC Pedicure and Manicure Kit
12:30 PM – Dilwale Deluxe Edition
Blockbuster Clue – Apple Ipad Air 2 16 GB
12:15 PM – Borosil Medium Nickel Diffuser
12:00 PM – The Alchemist
Blockbuster Clue – Sony DVP-SR660 DVD Player
11:45 AM – Cello Lifestyle Stainless Steel Flask, 500ml
11:30 AM – Nokia 108 (Dual SIM, Black)
Blockbuster Clue – HP Notebook 15-ac118tu 15.6 inch Laptop
11:15 AM – Philips QT4005/15 Beard and Stubble Trimmer (M-Power Play)
11:00 AM -The Night Train at Deoli and Other Stories
Blockbuster Clue – Samsung Galaxy Grand Neo Plus GT-I9060I (Midnight Black, 8GB)
10:45 AM – Unibic Festive Cookies, Tin, 500g
10:30 AM – iPro 20800mAh powerbank for Tablets and Smartphones-Grey
Blockbuster Clue – Breaking Bad Season 1 to 6
10:15 AM – Wipro Garnet B22 7-Watt LED Bulb (Pack of 2, Cool Day Light)
10:00 AM – Book of Souls
Blockbuster Clue – Canon EOS 1200D 18MP Digital SLR Camera (Black) with EF-S 18-55mm f/3.5-5.6 IS II Lens, 8GB Card and Carry Bag
09:45 AM – Farenheit Wayfarer Sunglasses (Red and Yellow) (FA-2000-C2)
09:30 AM – Intex Eco 102e (Grey)
Blockbuster Clue – Philips AquaTouch AT620/14 Men's Shaver
09:15 AM – Disney Multi-Coloured Oval Sunglasses (SG100030)
09:00 AM – Geronimo Stilton Se: The Journey through Time
Blockbuster Clue – Philips HTD5520/94 Home theatre (Black)
08:45 AM – Star wars battlefront PS 4
08:30 AM – Maxima Ego Analog White Dial Men's Watch – E-37420PAGC
Blockbuster Clue – Makey Makey – An Invention Kit for Everyone
08:15 AM – Story @ Home Set Of 2 Pcs Doormat Red and Blue
08:00 AM – Watch Dogs PC Game
Blockbuster Clue – Samsung Galaxy Core 2 (White, 4GB)
Day 1 Answers :-
7:45 PM – Kingston 16 Gb Micro sd card
7:30 PM – Signoware Organise 47
7:15 PM – Philips DVD Player
Blockbuster Clue – Timex Digital Watch 5k94100
7:00 PM – CAPTAIN PHILIPS DVD
6:45 PM – Adidas Skipping Rope
Blockbuster Clue – Maxima E01454 Combo
6:15 PM – Parker Luxury Gift Set
6:00 PM – Li-Ning g-tek 58 Racquet
Blockbuster Clue – Eveready base B22D 9-watt LED Bulb With Batteries
5:45 PM – Borosil akhand diya
5:30 PM – The Amazing Spiderman DVD
Blockbuster Clue – Micromax Tablet P480
5:15 PM – Maxima Uber
5:00 PM – A Gathering Of friends My Favorite Stories
Blockbuster Clue – Cannon Power Shot sX 610
4:45 PM – Borosil Large Nickel Diffuser
4:30 PM – Jhumpa Lahiri Unaccustomed Earth
Blockbuster Clue – Polar loop Activity Tracker
4:15 PM – Maxima Uber Collection Analog Multi Color Watch
4:00 PM – Borosil froggy light set 2 peices
Blockbuster Clue – Story@home comforter,Django Unchained
3:45 PM – Lenovo ideapad 100 800mh 14 inch
3:30 PM – Love in the Time of Cholera
Blockbuster Clue – NFL MADDEN PS4
3:15 PM – Maxima Ego Analog Black Dial Watch E-337411PAGC
3:00 PM – Nokia 130
Blockbuster Clue – Inalsa Fiesta 650-Watt Food Processor (White/Grey)
2:45 PM – Tom & Jerry Combo Set
2:30 PM – Diary of a wimpy kid: Old School
Blockbuster Clue – Samsung 32 inch LED TV
2:15 PM – Toshiba 1TB Portable Harddrive
2:00 PM – To kill a Mockingbird
Blockbuster Clue – Microsoft Lumai 535
1:45 PM – VLCC Fruits Facial Kit 5+1
1:30 PM – Sherlock Holmes – The Compete novel & Stories Level 1
Blockbuster Clue – Micromax Canvas HD Plus A190
1:15 PM – Philips BT1005 Beard Trimmer
1:00 PM – Steven Speilberg Directors Collection
12:45 PM – Hamleys 3D tri color markers activity kit
Blockbuster Clue – Lenovo G50-45 Laptop
12:30 PM – Yuvraj Singh (The Test of My Life: From Cricket to Cancer and Back) – Hardcover
12:15 PM – The French from Laskhmi
Blockbuster Clue – Nokia 225
12:00 PM – Mrs funny Bones
11:45 AM – Belkin
Blockbuster Clue – SanDisk Connect Wireless Stick 16GB Flash Drive (Black)
11:30 AM – Philips BRE200/00 Satinelle Legs & Arms Epilator (Pink)
11:15 AM – Home Candy Floral double Bedsheet
Blockbuster Clue – Karcher WD1-MV 11000 Vaccum Cleaner
11:00 AM -The Dramatic Decade:The Indira Gandhi Years
10:45 AM – Phillips Hair Dryer &Straightner
10:30 AM – Amkette Evo Gamepad,Maxima Watch
10:15 AM – Cadbury
10:00 AM – Swiss military pen
09:45 AM – Ava Traditional Jewellery Set
09:30 AM – Wonderchef Celebration Set Blue
Blockbuster Clue – Yo Dual Sim (GSM+GSm) Loudspeaker Mobile with Auto call Recorder Black
09:15 AM – Joe Black Aviater Sunglasses
09:00 AM – Asura :Tale Of Vanquished
08:45 AM – Bajaj Majesty Cookware Set
08:30 AM – Preethi Elda Stainless Steel 2-Burner Gas Stove
08:15 AM – Ekya Yoga MAT
08:00 AM – Indulekha hair oil bottle selfie 100ml
Blockbuster Clue – PNY BE-520 5200mAH Power Bank (White)
Be with us to get the Best Offer :-