A2Y Forum – Made to share the best loot deals and tricks. Everyone is equally important and can post offers or deals that they know with our Readers. Using A2Y Forums will prove equally important to the user and as well the reader too. User will be given Free Credits for each of his activities on A2Y Forum and Reader will be delighted with the offers and loots posted on A2Y Forum.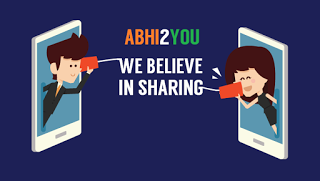 Now Referral Bonus has been doubled – Get 50 A2Y Credits (Rs.5) Per valid* Referrals. This offer is valid till 31st December 2015 only. Refer your friends to A2Y Forum and Start Earning. One can refer unlimited friends.
Special Offer – Sign Up on A2Y Forums and Get 50 (30+20) A2Y Credits (Rs.5 Recharge Credits) Free + Rs.5 Per refer!
Getting Started With A2Y Forums :-
Visit forum.abhi2you.com now
Sign up using your Email or use your Google / Twitter / Facebook account for faster sign up.

Verify your Email address now.
Complete your profile and Upload a Profile Picture (Earn 30 Points free to do so).
Now you are ready to use A2Y Forum.
Earning A2Y Credits (Free Recharges) :-
Login : 5 Point (Once A Day)
Happy Birthday : 25 Points (Per Birthday)
Registration : 30 Points (One Time)
Update Full Profile : 15 Points (One Time)
Upload Avatar : 10 Points (One Time)
Create New Thread : 10 Points (Max 10 Per Day)
New Post/Comment : 5 Points (Max 10 Per Day)
Associate Facebook : 10 Points (One Time)
Associate Twitter : 10 Points (One Time)
Refer & Earn : 50 Points (One Time)
Special Offer – Register on A2Y Forum to Earn 30 A2Y Credits Free + Complete your profile and upload an avatar to get another 20 points. Offer Valid for a limited time only + Get 50 Credits per refer!
Conversion Rate :-
Recharge Credits- 10 Points = Re.1 (Min. Redemption 200 Points).
Frequently Asked Questions (FAQ) :-


Ques – What Will be the Use of A2Y Credits ?
Ans – You Can Use Those Credits To Get Free Recharge Credits
Ques – How Much Points I Can Earn Daily?
Ans – There is no need of explanation to this , you can check that through Actions And Points Mentioned Above.
Ques – Will My Points Get Deducted Automatically Also?
Ans – Yes , In Case suppose Someone liked your thread you will receive 2 Points for that , but if the user unlike the thread than you will loose those 2 points you have earned. Similarly You created a thread you get 5 points , your thread get deleted you loose 10 points.
Ques – How Can I Withdraw my Earned Points In Form of Recharge ??
Ans – Well Yesterday I Tolded That We Will Comeup With New Way Of Withdraw, So Here we Introduce The New Way Of Withdrawl – Click Here To Check
Ques – Is There Any Chance That There Will Be More Action Added??
Ans – Yes, It Depends on Staffs They Can Add/Delete Actions As Per Required.
Ques – On Getting Rs.10 Free on Sign Up can i Redeem it Instantly ?
Ans – Sorry to say, You need to earn atleast Rs.20 to redeem in form of Recharge. You can easily earn Rs.10 within 2-3 Days by performing simple tasks already given above.
Note – Fake / Multiple accounts will be traced out and would be banned to use A2Y Forums. So its better to be genuine and follow the policies of the offer.
Terms and Conditions :
1. We owns the right to disqualify any of the participant who violates our terms.
2. All Prizes are eligible only for selected participants – "No criteria will be applied"
3. Contest can be shutted and can be changed anytime.
4. We can anytime cancel your Free Gift / Free Reward if we found you guilty.
5. No Spams and no abusment will be entertained.
6. Prizes are as mentions and can be anytime charged based upon the owner.