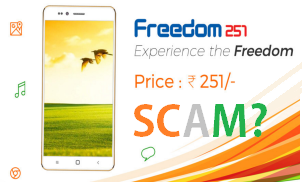 It's almost 2 days since the launch of Freedom251 Smartphone, which was promising the worlds cheapest smartphone. It has gained a lot of Controversies & confusing most of the peoples whether to buy it or not? No One is seems to be sure about it right now. Its even not possible to manufacture a smartphone with such specs at a price tag of just Rs.251 only. At the price of Rs.251 you actually get a Branded 8 GB MicroSD Card not a fully featured Smartphone.
This post is issued in a public interest, We have got so many mails & comment regarding Ringing bells is Scam or Not? So here we collected all possible information, so that you can decide yourself to go with it or not!
We are adding some of the reasons below to go with this smartphone or not?
About Ringing Bells :-
Established in September 2015, Ringing Bells Pvt. Ltd. made a name for itself when it announced the Freedom 251, the most affordable smartphone in the world.
Ringing Bells says the Freedom 251 smartphone has been developed 'with immense support' from the government and is touting it as a success story of PM Modi's flagship 'Make in India' scheme.
Why not to Buy Freedom251 :-
1. Company's Background :-



Firstly, The Company Ringing Bells is a newbie started in September 2015 only with an investment of just around 50 lacs or even less than it.
Helpline numbers provided by Ringing bells are not respondent or either busy every time.
Ringing Bells was set up by Mohit Kumar Goel, who goes by "Cutemohit" on Facebook – Facebook ID Link
— Versed Tech (@versedtech) February 18, 2016
2. Website's Risk Test :-



Domain age of www.freedom251.com is just a week old, Purchases from Bigrock & will be expiring in a year – Source
Such new Website can't be trusted, Moreover they have printed full page Newspaper ads but can't handle even one second of internet traffic.
Even their Website's configurations is such that you can even buy half of the smartphone too if you can't afford a full one.
— Reddit India (@redditindia) February 18, 2016
3. Question on Manufacturing :-
Ringing bells don't has any manufacturing unit. They just have a headquarter based in Noida. It's for sure that this smartphone has not been manufactured by them
When journalists examined Freedom251, They came up with 'Adcom' Company's logo on it, which was hidden by a whitener over it.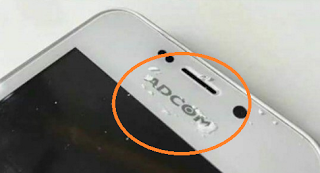 Adcom which is a Chinese Company if they have manufactured it then how it's a 'Make in India' Initiative ? Further the Marketing Manager of 'Adcom' has said, "We have no idea that our branding is being used on the Freedom 251"
Adcom A400, the handset which is being allegedly rebranded (without their permission) was launched 2 years ago. Hence, it can be a possibility that Ringing Bells are now reselling the old stock at lower price.
4. Question on Legality :-



All phones sold in India must be certified by the Bureau of Indian Standards (BIS). Getting this certification done is both time consuming and expensive.
However, it appears that the BIS registration of the Ringing Bells Freedom 251 has not been done yet, as it is not listed in the list of manufacturers registered by BIS.
Thus, its a newly made device by Ringing Bells and yet not certified as safe for use in India.
Even Indian Cellular Association (ICA) has questioned on Ringing bells Freedom251's Project claiming that it is not possible to manufacture a smartphone at this price tag, as there is no way any company can sell such a handset below Rs 2700.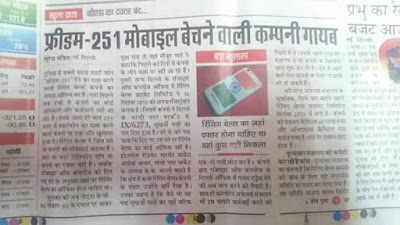 4. Product at Actual :-
As per the specifications mentioned by Ringing bells, the preloading apps like of that Swatch Bharat, Women Safety App were missing in the review unit provided to Hindustan times.
Moreover, Icon of Camera, Message, Calculator, Email, etc were tip-to-top copy of iOS.
Besides, the actual handset received by HT is entirely different from the handset which is being shown on their website and the full page ads in newspapers.
Safe Sides of Freedom251 :-
1. Political Interference :-



BJP Minister, Shri Murli Manohar Joshi has launched this smartphone at Delhi promising for the Make in India Campaign, Even our Defense minister was also expected to arrive but was failed to do so.
The Involvement of BJP's Ministers will not be lead to such big scam, People will start blaming BJP for it.
2. Ownership is Clear :-
The Ownership of Ringing bells Pvt. Ltd. Is clear, Founder of Ringing bells being Mohit Goel & CEO is Ashok Chaddha.
Here's an Exclusive Interview with Ringing Bell's Founder & CEO by NDTV :-