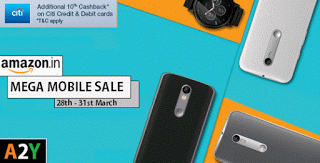 Amazon is back with another great sale, this time its Mega Mobile Sale. Get Exciting Amazon promotional discounts on best selling mobile phones + extra 10% Cashback via Citibank Credit & Debit Cards on all Mobile Phones available on Amazon.in
Offer Validity: 28th March – 31st march, 2016 | Max Cashback is Rs.1,000
How to get the Offer :-
Browse through the Products & Offers available
Click on your preferred Mobile Phone
Click on 'Add to Cart' or 'Buy Now' Button
Login / Register
Add / Update your Shipping & Billing Address
Choose preferred payment mode & Pay for your order
Pay using your Citibank Credit or Debit Card to avail 10% Cashback offer.
That's it! Enjoy the deal !
Deal Suggestions :-
Frequently Asked Questions :-
Q. What is the offer?
A. Get Additional 10% Cash Back on Citi Credit and Debit cards on purchase of entire range of Mobile phones available on Amazon.in.
Q. How can I avail this offer?
A. There are no special steps to avail this offer. Just go through the normal purchase process.
Q. When will I get the cash back?
A. Cash back will be credited to the card holder's account latest by 30th June 2016.
Q. Do I need a promo code to avail the cash back offer?
A. No, you do not need a promo code. Just use your Citi Credit and/or Debit cards to place the order.
Q. Can I avail the cash back on more than one purchase?
A. No. This is applicable on only one purchase per card.
Q. What is the maximum cashback amount per card?
A. You can avail maximum cashback of Rs. 1000 per card.
Q. Can I avail cash back on credit card on EMI?
A. Yes, the cashback is applicable on EMI options.
Terms & Conditions :-
The validity of the Offer is unless extended by Citi and/ or Amazon is from 28nd March 2016 to 31th Mar 2016 in their sole discretion, without prior notice.
Under the Offer, any Cardholder who makes a purchase of any Mobile phone available on Amazon.in using his/her debit or credit card issued by Citi, will be provided a cashback worth 10% of the mobile phone purchased.
The cashback would be credited to cardholders account by 30th June 2016.
The Offer will also be available for Cardholders making a purchase using the EMI facility provided by Citi.
For the avoidance of doubt, for such Cardholders, the total order value (and not the amount of any installment payable by such Cardholder towards an order) would be considered for the purposes of eligibility for this Offer.
The maximum value of the cashback provided under this Offer will not exceed INR 1000.
Citi and Amazon reserve the right to disqualify the Cardholder(s) from the benefits of the Offer, if any fraudulent activity is identified as being carried out for the purpose of availing the benefits under the said Offer or otherwise by use of the Card.
Any person availing this Offer shall be deemed to have accepted these terms and conditions.
Citi and Amazon reserve the right, at any time, without prior notice and without assigning any reason whatsoever, to add/alter/modify/change or vary all of these terms and conditions or to replace, wholly or in part, this Offer by another offer, whether similar to this Offer or not, or to extend or withdraw it altogether.
Delinquent and over-limit Cardholders will not qualify for this Offer.
Card payment on delivery would be considered for cashback.
Offer is not valid for corporate cards.
Detailed T&C – Click Here