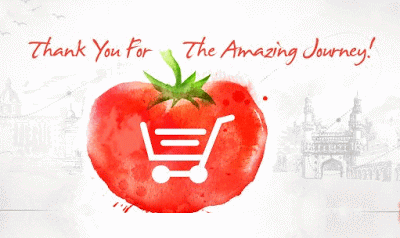 Snapdeal-Backed PepperTap started a year & half ago in September 2014. In the journey of being the Best Grocery Delivery service in India they have burnt a lot of their money in this business & now they finally decided to close their cash-burning grocery delivery operations & continue to focus on their logistics business.
PepperTap at its best was able to start their service in 17 Cities of India but due to continuous loss faced in their business they start demoting their Presence in those new cities & again came back to 8 cities of India to continue operating their service. PepperTap states that they were losing cash on every order & decided to preserve a large amount of the investor capital.
PepperTap, which was being controlled by Nuvo Logistics has a presence in more than 32 cities in the country and works with eCommerce players like Snapdeal, Patym and Shopclues. They will start focusing on their current logistics business in future.
PepperTap isn't the only grocery delivery startup that shut down. Many startups like LocalBanya and Townrush shut down due to drying out of funds and inability to raise further rounds of investment. Even Ola Cafe, Flipkart's grocery delivery service also shut down because of unsustainable business models.
Imp – There is no update regarding users who was having PepperCash left in their account. The Last date to consume it is 30th April as stated by PepperTap few days back but now they have closed their service before the deadline also.
If you were having PepprCash in your Account then try to contact via Twitter or mail them [email protected]


Problems faced by PepperTap :-
Firstly, The integration of PepperTap app with their partner stores was not great. Customers were, at times, unable to see the entire selection of items from a store and sometimes even essential items were missing from the catalogue visible to them. This was one of the downfall reason of peppertap.
Secondly, PepperTap to keep enticing customers to buy from their platform, They were spending a lot of time and energy to devise clever sales and discount schemes. Offering almost each & every product available at cheaper prices than market at lowest commission. This was the cash-burning task being performed by them in these few years.
Thirdly, They were going to stick to their 2 hour delivery promise (which was rapidly becoming a key differentiator in the markets for us), they were needed to build spare capacity in every one of the 17 cities in which we were present. Compounded with the necessity for discounts, this meant that the cash we were burning on every single order was increasing rather quickly with no immediate end in sight.
Interview with Navneet Singh, PepperTap CEO :-