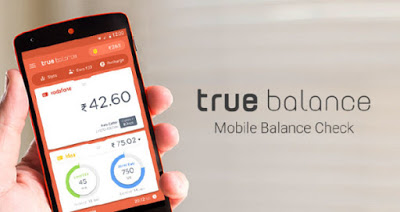 Since True Balance team released an alpha version in 2014, over the past year we've heard a lot of great feedback and ideas directly from our community. We were amazed at the response. So we started the business in Delhi last year and expanded to 7 major circles last month.
True Balance gives you one touch solution to manage your prepaid mobile balances. Now Balance checking made easier & colorful, Not only checking balances, but it also supports recharge; Invite friends, earn points and buy new packs!
Finally Finally, TrueBalance has announced the launching of pan-India version, Please check below link to know more about the supported operators and regions – Visit Here (Now no more limitations)
TrueBalance is going to support the following circles soon so don't be sad about it! In which they will include – Assam, Himachal Pradesh, Jammu & Kashmir, Northeast.
What are the main Features of TrueBalance ?
Balance Alert – Get low balance & expiry alerts of Main balance, Data pack, Call pack and Rate cutter.
(New) PlayPull Animal friends – True Balance added FUN to balance check. Don't miss this EXCITEMENT as well as FREE POINTS!
Deductions – Automatically check call cost balance after every local / STD call | Automatic data balance inquiry after every connect.
Data Tracking – Track apps stealing your MB in the background | Monitor data usage from background or foreground by date or app wise
Earn & Free Recharge – Invite friends & Earn points | Get free recharge with points in Wallet.
Informative – Browse mobile portals and get more packs & latest offers information | One click to Customer Support.
SINGLE & DUAL SIM Compatibility – Works smoothly & automatically deducts your phone type
HASSLE FREE SETTINGS: customizable preferences & easy to use & understand
No rooting is required
Why A2Y Prefers you to Use TrueBalance ?
Being a middle-class man, I know its little difficult to track all your monthly mobile bill expenditures. Specially in today's life of Smartphones where you do most of the things through the Internet whether its Calling & Messaging. Data usages has gone to great extends – TrueBalance app acts as a companion with you, It will track all such data usages/ balance/ calling packs of your operator & helps you to choose which Plan will be suitable to you according to your usage.
Moreover, Savings is something we all does & TrueBalance app can help you to actually reduce your mobile bills as they provide you solutions to earn free recharges too. So its all about benefits & benefits with TrueBalance app.
Its the first time in my blogging career am reviewing an app & investing my time to tell you guys what i think about this app.
PlayPull : A Fun Way of Checking & Earning Mobile Balance
As told before we are discussing about TrueBalance App's New Features & more ways with which you can earn more money / recharges.
So PlayPull is basically, balance animals will help you get your latest mobile balance and free coins (The number of coins are vary, and can be zero, other conditions & restrictions may be applied)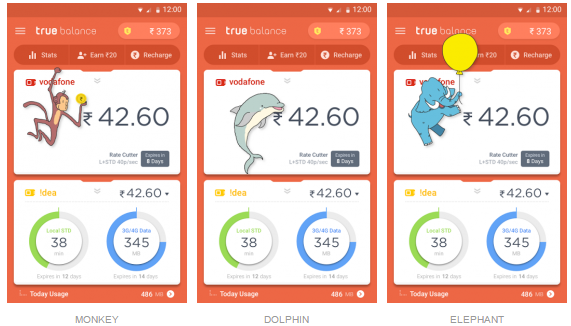 As you can see in screenshots, we have many balance animals in TrueBalance app that will come after pulling down of operator balance cards (They will stay with you on screen and update your balance in app)
Apart from this, animals have free coins that will be given on your randomly pulling down.
These balance animals have very limited coin budget so they will give free coins only for the first week from your registration date
You can redeem your free coins into wallet points from wallet pages and later use it for your mobile recharge.
PlayPull Feature of trueBalance app will add little fun to your stress-full daily life 😀
How to Get Started with TrueBalance ?
At first you are required to Download TrueBalance app from Playstore
Open the app & give all the required permissions to it.
Now Sign Up for a new account entering your Mobile Number & Password.
Finally, Enable True Balance & Enter your Conviniant Cellular Plans.
Once Done! You will get Rs.10 Wallet credits credited into your account + Rs.10 additional as an Emergency Loan.
Its that easy believe!
Referral Program :-
Currently, Truebalance is running A10 & B10 offer. For every valid new signup A-party will get 10 points and B-party will get 10 points.
Why i am calling this a big offer? is because previously TrueBalance app was restrictively for Delhi Users only & as of now TrueBalance is now almost PAN-India. Now you can actually refer your buddies across India & tell what about TrueBalance app.
Final Conclusion :-
Guys, Thanks a lot for investing your time to read this article. I have just posted this because I think this app is useful for my viewers. Its not a type of a promotional / Sponsered post by TrueBalance. Have a nice day guys 🙂
TrueBalance FAQ – Click Here
Supported Regions – Click Here
PayFull Feature – Click here