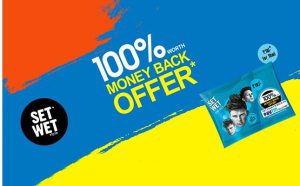 As before we came to know about Free Paytm cash offers on Kingfisher beer / Yippie noodles / Emani Fair Handsome Cream / Bourbon Biscuits Etc. Now get 100% Cashback in form of paytm cash on buying a Setwet Get worth Rs.10 only. Paytm being "The Coolest Currency" you can use it anywhere you want to use.
Sada Sexy Raho + #PaytmKaro :p
How to Get The Offer :-
Purchases a Setwet Gel pack of Rs.10 only from market (Make sure that the pack is latest one with the offer printed over the pack).
Use Setwet gel and enhance yourself more on style + Find the cash-code printed inside the pack.
Now Visit Paytm Offer Page to Claim your Cash Prize
Enter the Same Cash Code and Click on "Proceed"
Sign in / Sign up to your Paytm Wallet.
Voila ! You git Rs.10 Paytm Cash Added in your Account.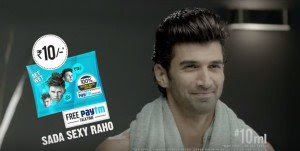 Terms and Conditions :-
Participation in this Promotion namely, Paytm Set Wet ("Offer") is purely voluntary and optional. This Offer is not valid in conjunction with any other Offer.
Products also available without this Offer. By participating in this Offer, each participant is deemed to have accepted these terms and conditions.
This Offer is being conducted by Marico in association with One97 Communications Ltd.'s ("One97 or Paytm) (collectively referred to as Organizer) on One97's platform, namely www.Paytm.com ('website'), for Products defined hereinafter.
This Offer is valid in India till 30th April ('Offer Period') on purchase of Set Wet packs referred to as "Products" and on limited stocks only
The Offer is valid for the citizens of India (except the employees and family members of Marico and One97, their associate companies, their joint venture partners, its co-packers, their distributors, their agents, their advertising and promotional agencies and their auditors.)
The Code cannot be redeemed after the expiry of the Offer Period and you agree to waive off right of redemption on the date of expiry of Offer Period.
Neither MARICO nor Paytm.com will be liable for any delay in actual redemption under this Offer reflecting in the customers' account.
Paytm and MARICO will not be responsible for any loss or damage to the Code.
The partic ipant waives conditions of DND register by participating in the contest.
All customer related queries for this Offer can be addressed to [email protected]
The Offer is being conducted under the supervision of independent auditors. Paytm is the registered trademark of ONE97.
MARICO and/or Paytm shall not be responsible for any loss, injury or any other liability arising out of the Promotion or due to participation by any person in the Offer.