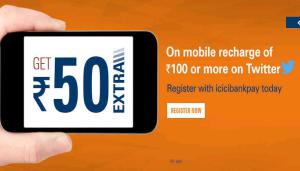 Good News for all ICICI Bank account Holder's just invest your little time and Register on ICICIbankpay through Twitter and Do your 1st ever recharge & get Rs.50 Cashback as a reward from ICICI Bank. This Offer is Valid up till 15th May 2016 but only valid for ICICI Bank account Holders.
ICICI Bank's Offer Page – Click Here
Offer Overview :-
Recharge for Rs.99 or below & Get Recharge of Rs.25 Extra
Recharge for Rs.100 or above & Get Recharge of Rs.50 Extra
How to Get The Offer :-
Visit ICICI Bank's Offer Page – Click Here
Click on Register Now button or directly visit @icicibank on twitter
Follow @icicibank on twitter and sent a direct message as below :-
Syntax : "#Reg <Mobile Number>"
Example : – #Reg 9889001122
You will soon receive an OTP (One Time Password) to that no. (Make sure you are entering your registered mobile number else you will not get your flipkart voucher).
Now Send that OTP with required Syntax via DM to verify your no.
Syntax : "#RegOTP <OTP Code>"
Example :- #RegOTP 865791
Once you have registered, Make your first ever recharge/ bill payment. You can also open FD/ RD through twittter
Click here to know more about ICICI InstaPay feature
Once, Recharged you will get your extra recharge benefits within 20 days.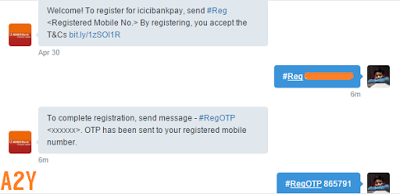 How to Recharge :-
Send a Direct Message #GenOTP to @icicibank on twitter to receive the One Time Password (OTP) on your registered mobile number
Send a Direct Message #TopUp 10-digit mobile OperatorCode Amount OTP E.g.: #TopUp 1234567890 Airtel 10 111111
To know the Operator code for mobile recharge: Send a Direct Message #operatorcode
Terms and Conditions :-
This Offer is available to Eligible icicibankpay Users on their first registration as an Eligible icicibankpay User and first Prepaid Mobile Recharge using icicibankpay Service during the Offer Period.
Eligible icicibankpay User who successfully performs a Prepaid Mobile Recharge transaction shall be eligible for Rs.50 extra recharge value on a minimum recharge of Rs.100 and Rs.25 extra recharge value on recharge value of less than Rs.100.This Rs.50/Rs25 extra recharge value will be credited within 20 days to the mobile number which the Eligible icicibankpay User recharges using this icicibankpay Service.
This Offer is valid only for the Eligible icicibankpay User(s) selected at the sole discretion of ICICI Bank.
The Offer is not valid for Void Transactions.
There is so much you can do with icicibankpay – ICICI Bank Twitter Banking. Register today for icicibankpay and you can avail this amazing welcome offer.
All you need to do is register for icicibankpay during the offer period i.e. April 23 to May 15, 2016 and recharge your mobile. You will get the extra recharge pack within 20 days of your first recharge transaction.