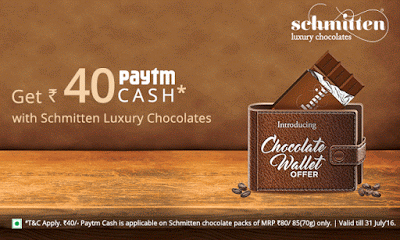 As before we came to know about Free Paytm cash offers on Nescafe Coffee / Kitkat / Setwet Gel / Kingfisher beer / Yippie noodles / Emani Fair Handsome Cream / Bourbon Biscuits Etc. Now Get Free Paytm Cash upto Rs.40 with Schmitten Luxury Chocolates.
Its all starts with a Schmitten Luxury Chocolates + Avail free Paytm Cash too #PaytmKaro :p
Source –
Click Here
| This offer is valid from 10th May, 2016 to 31st July, 2016.
How to Get The Offer :-
Purchases a Schmitten Luxury Chocolates from market (Make sure that the pack is latest one with the offer printed over the pack).
Find the scratch code printed at the back of the pack
Scratch it & Note down the 12 Digit Unique code
Now Visit Paytm Offer Page to Claim your Cash Prize
Enter the Same Cash Code and Click on "Proceed"
Sign in / Sign up to your Paytm Wallet.
Voila ! You got Rs.10 / Rs.15 / Rs.20 / Rs.40 Paytm Cash Added in your Account.
Terms and Conditions :-
This Offer is valid in India from May 10th 2016 to 31st July 2016 ('Offer Period') on purchase of Schmitten chocolate packs bearing paytm logo referred to as "Products"
After purchasing the Products, the participant has to scratch the sticker pasted on the pack and to look for the Coupon code ("Code") printed therein
After retrieving this Code, the participant can participate in the Offer in the following manner and avail Paytm Cash.
No cash would be given in lieu of Paytm cash.
A single user account can avail the offer thrice in case of Rs 25/- ( 20g), Rs40/45/- (35g) and Rs 60/65/- (50g) SKU and twice in case of Rs 80/85/- (70g) SKU.
On successful application of the Code a onetime addition of respective denomination ( Rs.10 or Rs. 15 or Rs.20 or Rs.40) to user's Paytm wallet will be added. Each code is unique and for onetime use only.
The Code cannot be redeemed after the expiry of the Offer Period and you agree to waive off right of redemption on the date of expiry of Offer Period.
Details Terms & Conditions – Visit here