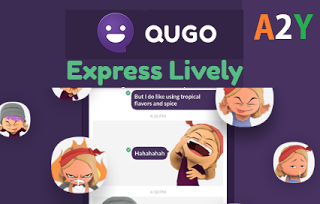 Qugo is a free smartphone messaging app that allows you to express beyond text and stickers using your own 3D animated avatar. Design your avatar with a wide range of accessories and express your personal groove and style.
Qugo app is now live with an all new referral campaign, Get Rs.100 Free Recharge on referring atleast 5 of your friends. Moreover, Creative winners will get LENOVO K3 NOTE worth Rs.11,199/- every week. Grab this offer now!
Update 2 – Qugostar Referral program is closing on Friday, 27th May at 10:00 AM. Hurry & Grab this offer no before its too late!
Update 2 – You will Get Rs.100 Recharge for 1st 5 Refers, After that Keep referring your friends & Earn Rs.500 Amazon Gift Voucher per 25 refers (Typically, Its Rs.20 Per Referral). Keep Earning!!
Offer Source – Visit Here
How to get the Offer :-
Open App > Sign up for a new account
Enter & Verify your Mobile Number
Enter all the required details & submit it
Choose / Design your 3D Animated Avatar
Now Goto Settings > Enter Campaign code – 'N37I' or '32IR'
Important to get Sign up bonus!
That's it! You are now ready to use Qugo app & Refer to earn free recharge & more
Refer & Earn :-
Click on 'Profile' icon on the dashboard
Now just below it > Tap on 'Text invite' option
Share qugo app via any social media platform you like!
Start Referring & You might get lucky enough to win a Lenovo K3 Note for free!
Stage 1st :-
1. Go to 'CONTACTS screen' and invite 5 friends to join QUGO
2. Send an animated message to those '5' friends once they are on QUGO
Reward: You will earn a talk time of Rs.100/- when you send a message to '5' friends of yours on QUGO
Stage 2nd :-
Once you have sent an animated message to '5' friends
1) Go to the 'HOME Screen' and click on 'CREATE STICKER'
2. Create an awesome sticker
3. Share it on Facebook
4. Remember to tag atleast 5 friends and use #Qugostar whenever you share your sticker
Reward: Win Rs.1000/- worth Amazon gift card daily for the most creative stickers
Stage 3rd :-
Once you have successfully completed stage 2
1. Get 25 additional friends on QUGO via your referral code
2. Share your referral link on Facebook, Twitter, WhatsApp etc.
3. To make as many of your friends and family join QUGO.
4. Send an animated message to those '25' friends once they are on QUGO
Reward: You will receive Amazon gift card worth Rs.500/- for '25' friends you add on QUGO.
Stage 4th :-
Once you have got '50' friends on QUGO,
1. Participate in the weekly QUGOstar in-app contest to win Rs.10000/-
2. Create a voice enabled animation on QUGO
3. Send it to Agent X Note: You qualify for stage
4. Only once you get '50' friends on QUGO
Reward: Creative winners will get LENOVO K3 NOTE worth Rs.11,199/- every week
How to Check Referral Counts :-
Goto Home > Follow Channels
Scroll down a bit till you see QUGOStar Chaneel
Follow it & Go back to settings
Scroll Down & After Campaign Code section you will see a new option unlocked – 'Referral count'
Click on it > N0w 'AgentX' will message you your current referral counts!
Once you have referred first 5 friends your recharge will be made within 2-3 days of time span!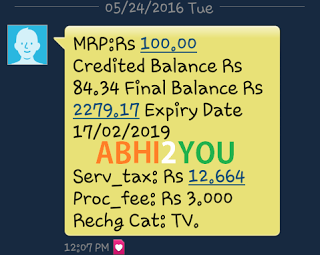 Please don't make fake / invalid refers, Qugo verifies the referrals & then process the reward.
You may get disqualified from the next stages also where you can win free Amazon Gift card & Lenovo K3 Note Smartphone too!

Here's a small introductory video about Qugo Messenger!