JangoMoney – The Ultimate Money Making App. This app is Just Like a Tree – You make hard work in beginning and as it grew up it will be able to fed you with the Fruits on it. Normally there are many apps from which we are earning Free money direct in Bank. This app has upto 8 level earning.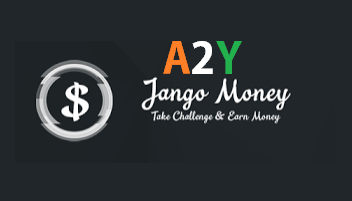 Complete the challenge of downloading apps & once done You will get Rs.63 (1$) in your JangoMoney wallet | Use Sponser code – "1486" while signing up.
Lets Get Started :-
Simply Download Jango Mobile App : Click Here
Let it be Installed and Now Open It.
Click On "Get Started" option on the very first Page.Now Fill Up your Personal Details (Make Sure You Use Your Real Name as it is in your Pan Card / Bank Account).
Now On the Next Page It will Ask you to Enter the Refer ID of Sponsor > Enter Code : "1486" and Click On Submit (Important to Get 1$ joining Bonus)
Now Accept Their Terms of Usage by clicking On "Accept" Button.
Now Comes the Main and Boring Part of the app. Now it will ask you to download some of the known Android apps given one by one.
This Is the Most Important part and Make Sure you Install All the Apps One by one Given to you > Make Sure After Installing you Open it for at least 1 minute.
It Maybe very boring for you and you may think that it will ruin your Data Plan but imagine its the app which require hard work for just one time . Be patience and Download all 5-6 Apps .
After completing the offer you will see this screen .Click On Start button and Get into the world of unlimited Money making system .

Try to share this app with all possible friends and get extra bonus on every sign up and Offer Complement.
Tell your friends about this post on our blog to guide them .So they can know it better about the app.
Remember – "If you don't Complete the task of downloading apps you can't earn by refers . So its necessary to download all the apps to get started."




How It Works On Referrals ?

In this app ,You Not only earn money for Direct Referrals but you can also make money by indirect Referrals too. Just like Networks of Amway ,RCM ,ETC (You must have heard about them) . They are an example of Networking System that pays but here its Easy and no investment needed at all. If your Referred Person works Fine and Reaches at a Good Level them Definitely you will also earn from its Referrals. Just See how :-

For Example – If Someone Referred You and you used his / her's referral code then he / she will become your Sponsor and He will get a Commission also on your Joining. And when you refer others then not only you will earn but your Sponsor will also get some Commission added to his Account.