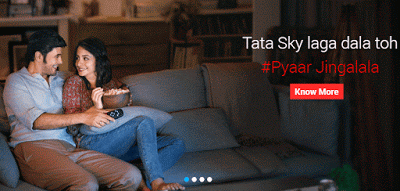 TataSky – India's Biggest Television network spreading all over in India from rural areas to urban ones. Tatasky has now came across with 68 full HD Channels as a biggest USP of them.
As a promotional offer, Get Active Cooking Pack at Just Re.1 only for 30 days. Offer valid for today only (25th June, 2016). Activate this channel & Enjoy the seamless services of Tatasky English New Service.
Offer valid only for today (25th June, 2016 only)
How to get the Offer ?
Give a Missed Call On 09226092260 from your Register Mobile Number to activate this offer
Or you can activate this plan by logging in here – www.mytatasky.com
Or Cal TataSky Customer Care & Tell them to activate this service – 18602086633
Your your next bill Rs.1 would be charged & next month onwards a regular price of Rs.5 per day will be applicable.
That's it! Enjoy your Active Cooking Pack at an unbelievable rate.
Terms & Conditions :-
Offers cannot be combined for additional discounts nor can any offers be clubbed to avail this Offer. This Offer is nontransferable, not for resale, and not redeemable for cash.
Tata Sky shall not be responsible in case of any network problems such as breakdown of machinery, unclear network, disruption in the network and/or the charges that may be payable by the subscriber to any network operator. Any dispute in connection with the same should be settled between the Eligible Subscribers and the network operator without involving Tata Sky.
While subscribing to the Active Cooking Pack, the Eligible Subscribers must provide all the required information, which may be asked from the Eligible Subscribers.
Tata Sky reserves the right at any time, without prior notice, without assigning any reason and without any liability whatsoever, to add or vary all or any of the terms and conditions or to replace, wholly or in part this promotional scheme or to withdraw it completely or to change the composition of the Offer.
Any and all taxes and/or levies applicable in relation to the Offer shall be solely borne by the Eligible Subscribers.
Under this Offer,on 25th June 2016,Tata Sky will offer the Actve Cooking Pack ('Pack') to its Eligible Subscribers at a discounted rate of Re.1/- for the initial period of 30 days followed by Rs.59/- per month till the time Eligible Subscribers continue to subscribe to the Pack as against the regular price of Rs.5/- per day charged by Tata Sky.
Further,it is clarified that if the Eligible Subscribers wishes to discontinue the Pack subscribed by way of this Offer,and then again subscribes to the Pack at a later date,if made available by Tata Sky,then the Eligible Subscribers shall be charged the regular price of Rs.5/- per day or such other price as may be charged by Tata Sky at that period of time.