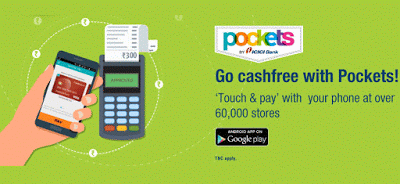 ICICI Bank introduces a new mobile payment solution 'Touch & Pay' that enables you to make secure contactless payments at retail stores using your smartphones. This Touch & Pay feature on Pockets app simply lets you tap your smartphone at a NFC (Near Field Communication) enabled merchant terminal and make the payment through your linked ICICI Bank Debit/Credit Card.
ICICI Pockets has come up with another great offer, Offering flat 20% Cashback by using ICICI Bank card in "Touch & Pay" Feature on the Pockets App.
Offer Source – Click here | Offer valid from May 20, 2016 to August 15, 2016.
Getting Started :-
Download the Pockets app from Google Play store/ App store.
Register to create your Pockets wallet instantly.
Enter all your Required details during Registrations.
Verify your mobile number and proceed.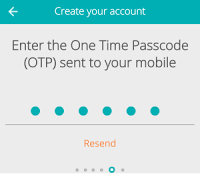 How to get the Offer ?
Now just click on the 'touch & pay' option on the home screen
Select any one of your ICICI Bank Debit or Credit Card activated on the App & Add your ICICI bank credit or debit card
Now a virtual card will be created which can be used for quick NFC payments
Now for paying via touch and pay feature just tap on touch and pay icon and select any of your ICICI bank credit or debit card.
Just hold your phone near the merchant terminal
That's it! You payment is done.
Terms & Conditions :-
Card holders can get maximum cashback of Rs 1000 per customer in the entire promo period
To avail the cash back, the customer has to visit any merchant site/outlets accepting payments through touch & pay and choose touch & pay as payment option inside the customer Pockets mobile application
The amount of Cash Back shall be credited to customers account in 45 days of end of program period
The cash back will be applicable only for touch & pay transactions and will not be applicable for Internet transactions, balance transfer (applicable to Card), all standing instruction payments, mail order / telephone order transactions and Void Transactions. Bill Pay through ICICIBank's Internet Banking channel shall not be eligible for this Program. The Program shall not be eligible for transactions carried out in foreign currency and for any retail purchases done overseas
Offer valid from May 20, 2016 to August 15, 2016.