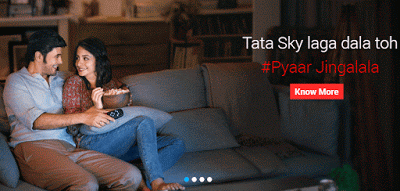 TataSky – India's Biggest Television network spreading all over in India from rural areas to urban ones. Tatasky has now came across with 68 full HD Channels as a biggest USP of them.
As a promotional offer, get Active Smart Manager at Just Rs.3 per day for 90 days. offer valid for today only (2nd July, 2016). Activate this channel & Enjoy the seamless services of TataSky Active Manager.
Offer valid only for today (2nd July, 2016 only). You will be charged Rs.10 per day after 90 days trail of this offer.
How to get the Offer ?
Give a Missed Call On 07815078150 from your Register Mobile Number to activate this offer
Or you can activate this plan by logging in here – www.mytatasky.com
Or Cal TataSky Customer Care & Tell them to activate this service – 18602086633
Your your next bill Rs.3 would be charged per day & after 90 days onwards a regular price of Rs.10 per day will be applicable.
That's it! Enjoy your Active Smart Manager at an unbelievable rate.
Terms & Conditions :-
Tata Sky Jingalala Saturdays Active Smart Manager Access Fee Offer ('Offer') is a promotional scheme which is being offered by Tata Sky Limited ('Tata Sky') to its Eligible Subscribers
Eligible Subscribers shall mean a Tata Sky Subscriber who has an Active Account Status and does not fall within the category mentioned in B (1) of the General Terms.
Under this Offer,on 2nd July May 2016,Tata Sky will offer the Actve Smart Manager Pack ('Pack') to its Eligible Subscribers at a discounted rate of Rs.3/- per day for the period of 91 days as against the regular price of Rs.10/- per day charged by Tata Sky.
Further,it is clarified that if the Eligible Subscribers wishes to discontinue the Pack subscribed by way of this Offer,and then again subscribes to the Pack at a later date,if made available by Tata Sky,then the Eligible Subscribers shall be charged the regular price of Rs.10/- per day or such other price as may be charged by Tata Sky at that period of time.
To avail this Offer,the Eligible Subscriber has to subscribe to the Pack on 2th July 2016 anytime between 00:00 hours to 23:59:59 hours by any of the following methods:
After making payment of the HD Access Fee,the Eligible subscribers will be able to watch all the High Definition Channels which is/are a part of their subscription either through Base Pack,Add on Pack or Standard Definition A-la-carte