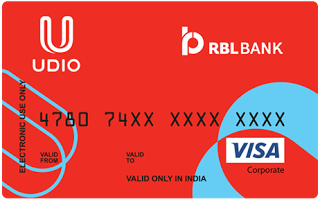 Udio Wallet – A new brand name given to Shmart wallet, is India's first Social Mobile Wallet loaded with superpowers for mobile recharges, payments & gifting experience. "#SuperSpender3" – Now Get Flat 2.5% Cashback On your Udio Card Transactions Worth Rs.500 & Above. More details on this offer have been shared below.
Offer Source – Click here | Valid from July 18, 2016 (15:00:00 hrs) to July 31st, 2016 (23:59:59 hrs)
Activate your Udio Card Offer :-
Open the app & proceed Signing Up for a new Udio Account.
Enter all the required details such as Name, Email & Number.
Goto Menu > 'My Udio Card' Section
Activate your 'Udio Digital Card' for free
-OR-
You Now Order a Physical Udio Visa Card at just Rs.99 only
That's it! Your RBL Bank's Powered VISA Virtual card will be activated soon.
How to Avail the Offer :-
Visit any online eCommerce portal
Shop for your products or transact for your purchases
Select Payment Mode as 'Credit & Debit Card'
Enter 16 Digit Udio Card Number & other relevant details
Now Click on 'Pay Now'
You will receive a 3D-Secure OTP via Udio to confirm your transaction.
Enter the OTP & Finally pay the required amount using your Udio Card.
Finally! Do any transaction at your preferred website which accepts VISA Virtual card
That's it! The cashback shall not be credited instantaneously and would be credited only within 72 (SeventyTwo) working hours of completion of the successful transaction.
Enjoy the deal!
Note- The Offer is not valid on transactions using Udio RBL Bank Visa Prepaid Card or Digital Card on www.Freecharge.in , www.Askmebazaar.com and www.zomato.com or for loading funds into any such prepaid instruments.
This Offer would be applicable only to Users using the latest version 2.1.2 of Udio Wallet Mobile App available on the Google Play Store.
Transactions conducted using Udio RBL Bank Prepaid Card or Digital Card will be eligible for the cashback amount of the Offer.
All successful card transactions above Rs. 500 (Rupees Five Hundred) will be eligible for 2.5% (Two & Half Percent) cashback.
Cashback will be offered subject to a limit of 2 eligible transactions per user per day.
Using voucher balance is not eligible for the cashback.
In the event of Udio Wallet account not having sufficient Udio Cash balance, Users would have to first add money using Credit Card/Debit Card/Net Banking or any such options made available from time to time.
Maximum cashback is Rs.100 (Rupees One Hundred) per eligible transaction.
The cashback amount shall be rounded down to the nearest rupee.
This Offer is valid only on successful transactions conducted using the Udio RBL Bank Visa Prepaid Card or Digital Card available on the Udio Mobile App at any merchants accepting Visa Prepaid Cards.
The Offer is not valid on transactions using Udio RBL Bank Visa Prepaid Card or Digital Card on www.Freecharge.in , www.Askmebazaar.com and www.zomato.com or for loading funds into any such prepaid instruments.
The Offer shall be valid only on successful transactions conducted during July 18,2016 15:00:00 hrs to July 31st, 2016 23:59:59 hrs. ("Offer Period").
TranServ Private Limited ("TranServ") reserves the right to change the Offer period and terms of Offer without any prior notice