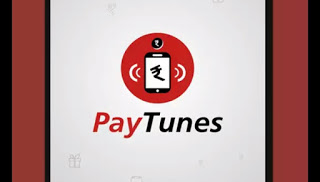 PayTunes Mobile app let's users earn through their incoming calls. It replaces the ringtones of user mobiles with ad-jingles and on each successful play of those audio ads on incoming calls, the users get reward points in the app. These reward points can be redeemed for recharges, exciting vouchers and many more stuff. Currently only recharge is available.
How to get started?
Open App and enter your mobile number. It will auto verify your phone number.
Now Enter your Name, Age , Sex.
Check mark "have referral" and enter referral code as "manish2380" to get 5 Rs as signup bonus.
you must have enter above referral code to get signup bonus.
After Fully Register you Will Receive 5 Rs sign up bonus
Now Wait for Any Incoming Call if you Will Receive Any Incoming Call so You Will Hear a Ad-jingles and you Will Receive 1 Points on Every Ad-jingles Listing.
How to refer and earn?
To Earn More Points , Start Referring your Friends.
Click on invite tab on the top
Now share your referral link to get up to 10 rs
You can up to 10 Rs per referral 5 Rs when your referral participate in contest.
Another 5 Rs when your referral do their first recharge