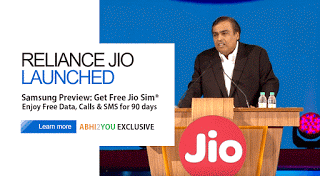 Jio, also known as Reliance Jio and officially as Reliance Jio Infocomm Limited, is an upcoming provider of mobile telephony, broadband services, and digital services in India.
Jio has now introduced their free complementary service for Samsung & LG premium handset users. Get Unlimited 4G Data/ All India Calls & SMS for 90 days.
Source – Click Here
Supported Samsung Devices :-
Samsung Galaxy A5 2015 & 2016
Samsung Galaxy A7 2015 & 2016
Samsung Galaxy A8
Samsung Galaxy Note 4
Samsung Galaxy Note 5
Samsung Galaxy Note 5 Duos
Samsung Galaxy Note 7
Samsung Galaxy Note Edge
Samsung Galaxy S6
Samsung Galaxy S6 Edge
Samsung Galaxy S6 Edge Plus
Samsung Galaxy S7
Samsung Galaxy S7 Edge
Samsung Galaxy A3
Samsung Galaxy Alpha
Samsung Galaxy Core Prime
Samsung Galaxy Grand Max
Samsung Galaxy J max
Samsung Galaxy J1 Ace
Samsung Galaxy J2, Galaxy J2 (2016)
Samsung Galaxy J2 Pro, Galaxy J3,
Samsung Galaxy J5, Galaxy J5 (2016),
Samsung Galaxy J7, Galaxy J7 (2016),
Samsung Galaxy K Zoom
Samsung Galaxy Note Edge
Samsung Galaxy S 5 Plus
Samsung Galaxy S4
Samsung GALAXY S4 4G
Samsung Galaxy S4
Samsung Galaxy S5 Neo
Samsung Grand Prime
Samsung ON5, ON5 Pro, ON7 & ON7 Pro
Supported LG Devices :-
LG K332 (K7 LTE)
LG K520DY (Stylus 2)
LG K520DY, H860 (LG G5)
LG K500I (X Screen), K535D (Stylus 2 Plus)
LG H630D (G4 Stylus 4G)
LG H 442 (LGC70 Spirit LTE)
How to get the Offer :-
Once installed open the app & wait for a while
You will see an Option 'Get Jio Sim'
Click on it & enter your details required
Select your State & City to check whether Jio is available in your city or not
If available you will see the stores nearby
Jio will now provide you a bar code!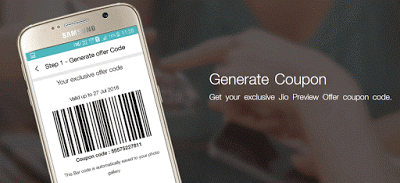 Now Goto your Nearest Reliance Digital Store or Reliance Digital Xpress (DX) Stores
Show them the bar code on your mobile & your phone's Bill to get the sim
Submit the required documents (Take Original copies).
Fill up the Jio Customer form & grab your Sim
Activating Jio Sim Card :-
Your sim will be activated within 24-48 hours
Insert your sim the your device
Dial 1977 from your Jio sim
Now enter the last 4 digit of the ID you have submitted
That's it! Your Sim will be activated instantly!
Grabbing Freebie Offer :-
Now Download all the 10 apps given in MyJio app
Sign up for a new account using your Jio Number
Once you have download all 10 apps, You will get your benefits!
Important Points :-
People are generating Bar codes to avail Jio Sim from various methods so Reliance store will try to confirm that you are actually a genuine user
Carry 1 or 2 of your Photographs & Original ID (As accepted by Jio).
Also take your Phone's Invoice Bill.
You will not get free data & other freebies if you dont download all the 10 apps given in MyJio App!