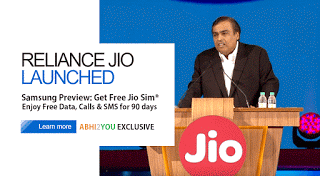 Jio, also known as Reliance Jio and officially as Reliance Jio Infocomm Limited, is an upcoming provider of mobile telephony, broadband services, and digital services in India.
Mr.Mukesh Ambani chairman of Reliance Pvt. Co. on 1st September in there AGM (Annual General meeting). Announced Jio Official launch & made discussions on all the possible scenarios of Reliance Jio.
From 5th September onwards, any customer with a valid aadhar card or any other ID proof & owns the 4G Supported mobile can get a free jio sim with free welcome offer till 31st December 2016.
Daily cap limit for Jio Users till welcome offer is 4GB/day (Speed will decrease to 128kbps after that).
List of all 4G Enabled Devices – You will get a free jio sim if you own these smartphones – Click here
Reliance Jio Highlights :-



Jio sim for everyone at no cost
Free Jio services till 31st December, 2016
Unlimited & Free Calls across India for lifetime
25% more data for Students | No blackout days
No Roaming charges, use anywhere
Best 4G Network & largest covered 4G network
Calls in High definition via voLTE
Support for non-voLTE enabled devices too.
Plans starting from Rs.149 to Rs.5,999
Reliance Jio Plans :-
Jio S Plan (Rs.149) – 300 MB Data | 100 SMS | No Night Unlimited*
Jio M Plan (Rs.499) – 4 GB Data | 8GB Wifi | Unlimited SMS + Night Usage
Jio M2 Plan (Rs.999) – 10 GB Data | 20GB Wifi | Unlimited SMS + Night Usage
Jio L Plan (Rs.1499) – 20 GB Data | 40GB Wifi | Unlimited SMS + Night Usage
Jio XL Plan (Rs.2499) – 35 GB Data | 70 GB Wifi | Unlimited SMS + Night Usage
Jio XXL Plan (Rs.3999) – 60 GB Data | 120 GB Wifi | Unlimited SMS + Night Usage
Jio XXXL Plan (Rs.4999) – 75 GB Data | 150 GB Wifi | Unlimited SMS + Night Usage
Note – All above plains comprises of Free Calling across India | Free Jio Apps subscriptions worth Rs.1,200 | All valid for 28 days.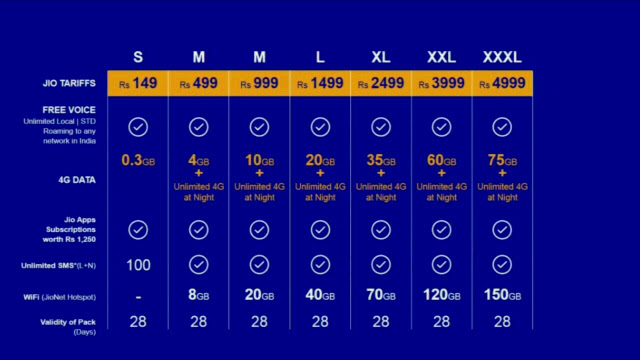 Reliance Jio Plans
Free HD Calls across India :-
Free calls over voLTE to any part of the country
No Tariff plans | No Roaming charges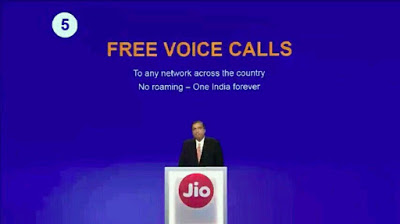 How to get the Jio Sim :-
You can easily grab a jio sim from your nearest Reliance Digital or Express Mini outlet
All you need to have MyJio app installed & generate the Bar code
Any 4G Applicable mobile will be able to get the barcode easily from 5th September 2016
Now visit the outlet in the morning itself as there will be many crowd.
Show them the bar code & fill the Jio form, provide the ID proofs.
That's it your Jio Sim will get activated within 24 hours.
Jio has announced that now they will come up with Online Aadhar | E-Registration with which your sim will be activated within 15 minutes. As of now we don't know the procedures for that, so you can ask the jio customer care or get inquiry from the Reliance Digital stores.
Jio will change the Indian Telecom Market :-
Jio is the first 4G only network in India
Jio will offer the World's cheapest 4G Data
Jio is the India's first network to provide HD Calls via voLTE
Jio is the First network to provide unlimited calling without any condition
Jio is the fastest 4G network in India
Jio will soon offer Fiber service in metro cities (upto 1GBPS speed).
Jio will install 1 lakh+ Wifi hotspots in India
Jio sim is free of cost, Jio is the first No Roaming network
Jio is the first network that will offer all services on blackout days also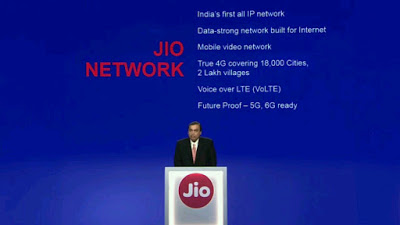 How to get the Offer :-
Firstly, Download MyJio app on your Device
Once installed open the app & wait for a while
You will see an Option 'Get Jio Sim'
Click on it & enter your details required
Select your State & City to check whether Jio is available in your city or not
If available you will see the stores nearby
Jio will now provide you a bar code!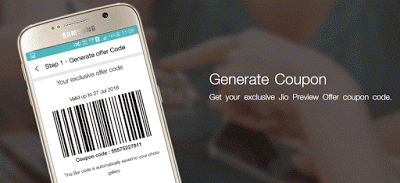 Now Goto your Nearest Reliance Digital Store or Reliance Digital Xpress (DX) Stores
Show them the bar code on your mobile & your phone's Bill to get the sim
Submit the required documents (Take Original copies).
Fill up the Jio Customer form & grab your Sim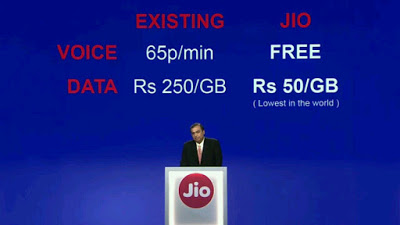 Activating Jio Sim Card :-
Your sim will be activated within 24-48 hours
Insert your sim the your device
Dial 1977 from your Jio sim
Now enter the last 4 digit of the ID you have submitted
That's it! Your Sim will be activated instantly.