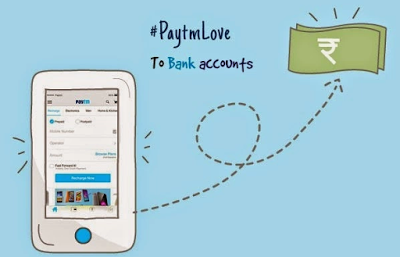 Paytm (Pay through Mobile) – Now coming now enormous types of payment options to make our life & mode of payment easier day by day. Paytm being the coolest currency, one can send the money in bank, transact almost anywhere online & what not.
Modi's Movement is being welcomed by most of the online eCommerce companies & peoples of our Nation too. Paytm knows that online ePayment system is how much quick, reliable & easy for Indians. Paytm will offer bank transfers via IMPS instantly at just 1.01% charges.
Previously Paytm was charging 4% for the same but 1% for KYC Upgraded users. This time its for all paytm users | Source
How to Get The Offer :-
Login / Register
Make sure you have sufficient wallet money or else load money to your wallet.
Click Send Money Option
Proceed to 'Send to Bank' Section
Now enter your bank account details
Enter amount (Suppose you Enter Rs.1000, but Rs.1010 will be deducted from your wallet- 1.01% will be the charged)
Check the details twice before you send the money
That's it! Your money will be instantly transferred to your bank account instantly.
Note – Maximum amount that can be transferred in a month is Rs 10,000