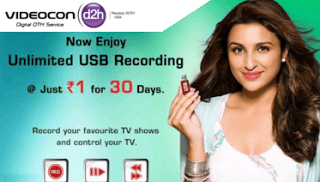 Videocon d2h has one of the most advanced technologies as compared to other dth service providers. There are no disruptions in Rainy season on Videocon d2h whereas this may not be the case with other dth services.
As a promotional offer, Videocon D2H is offering Unlimited USB Recording at Just Re.1 for full 30 days. Record your favorite shows & movies and save them for later watching. Not only this you can access full HD television recording at just re.1 as discussed earlier.
The offer can be availed any time between 00:00 hours on 13th January 2017 to 23:59:59 hours on 15th January 2017 ("Offer Days"). You must subscribe within the offer period.
This offer can be availed by just a missed call.
A) HD subscriber – Give a miss call on +91-8010955638
B) Stranded Definition Subscriber – Give a call on +91-7355873558
Now you must subscribe to Unlimited USB Recording at any point of time during the mentioned offer period (13th Jan – 15th Jan, 2017)
You will be automatically activated for this offer & Re.1 will be debited from your account!
Note – After 30 days this service will be automatically activated and will be renewed each month – Rs.30 / month only.
Terms & Conditions :-
Unlimited USB Recording service is a monthly subscription service. As such the Unlimited USB Recording service is available on monthly price is Rs 30/-, however only during the Offer Days subscriber can subscribe the Unlimited USB Recording service at the Offer Price.
The offer can be availed any time between 00:00 hours on 13th January 2017 to 23:59:59 hours on 15th January 2017 ("Offer Days")
The subscriber's account should be in active state to subscribe to 'Unlimited USB Recording service'.
The subscriber should have sufficient account balance to subscribe to ' Unlimited USB Recording service '. 5- Once subscribed @ Rs 1/-, ' Unlimited USB Recording service' shall be available for 30 days & cannot be de-activated before that.
After the 30 day's subscription period, the 'Unlimited USB Recording service' will be auto renewed at the normal price of Rs 30/- or such price prevailing at that stage.
Source – Click Here