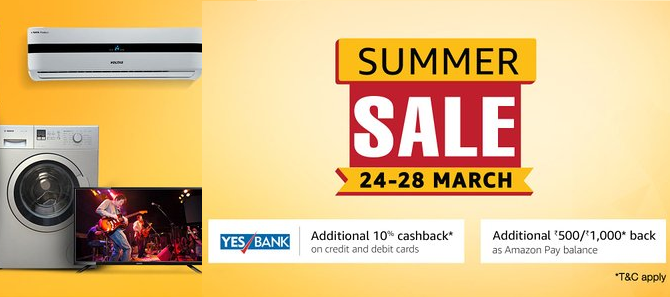 Amazon Summer Sale : Amazon is back with another great Summer sale, this time its The Appliances Sale. Get Exciting Amazon promotional discounts on best selling Laptops, Home & Kitchen Appliances + extra 10% Cashback via Yes Bank Credit & Debit Cards Across the offer category at Amazon.in
Amazon Summer Sale also features a Amazon Pay Offer for users who dont have Yes Bank cards can also avail that offer & Save money on their Appliances purchase from Amazon.
Offer Validity: 24th March, 2017 – 28th March, 2017
How to get the 
Offer
:-
Browse through the Products & Offers available
Click on your preferred Mobile Phone
Click on 'Add to Cart' or 'Buy Now' Button
Login / Register
Add / Update your Shipping & Billing Address
Choose preferred payment mode & Pay for your order
Pay using your Yes Bank Credit or Debit Card to avail 10% Cashback offer (Min. txn Rs.10,000)
That's it! Enjoy the deal !
Amazon Summer Sale 
Categories

:-

 
1. What products can I avail this offer against?
This offer is applicable only on the eligible AC, Refrigerator, Washing Machine products (with the Rs 500/ Rs 1000 Amazon pay messaging) purchased from Seller – Cloudtail India and LeEco Televisions (get Rs.2,000 cashback) is provided by Apptronics Retail ("Seller")
2. When will the offer value be reimbursed and in what form will I receive it?
The offer amount will be reimbursed as Amazon Pay balance within 30 days from the date of purchase.
3. Will I be able to use my Amazon pay balance to purchase any product thereafter?
Yes. The balance amount could be used to purchase any product across Amazon.in
Source – Click here
Yes Bank Offer: Frequently Asked 
Questions 
:-
What is the offer?

Get 10% cash back on YES BANK Debit & Credit Cards, on purchase of the following new products: (a) television, (b) washing machine, (c) refrigerator, (d) microwave; (e) air-conditioner – from 24 Mar 2017 to 28 Mar 2017.

How can I avail this offer?

There are no other special steps to avail this offer. Just go through the normal purchase process. Please note, the entire amount needs to be paid from your card to avail the offer.

What is the minimum transaction size for the cashback?

The minimum transaction amount to avail cashback is Rs.10000. The cashback will be calculated on the net amount paid on the product (after an exchange offer, if applied) in a single transaction.

What is the maximum cash back that I can avail?

The maximum cash back per card account across Amazon.in Site and App is Rs.3,000.

When will I get the cash back?

Cash back will be credited to the card holder's account latest by 28 May, 2017

Is cashback applicable on debit and credit cards?

Yes, the cashback is available on YES BANK Debit and Credit Cards

Can I avail cash back on credit card on EMI?

No. The cashback is not applicable on EMI.
Yes Bank: Terms & 
Conditions 
:-
This offer ("Offer") is provided by YES Bank Limited ("Bank") and is made available on www.amazon.in or the mobile application or mobile site thereof ("Website") by Amazon Seller Services Private Limited ("Amazon").
These Offer terms and conditions ("Offer Terms") are in addition to the Website Conditions of Use & Sale and Privacy Notice to which you agree to by using the Website. In the event of any conflict between the Conditions of Use & Sale and these Offer Terms, these Offer Terms will prevail, only for the purposes of this Offer.
All residents of India holding a valid and current Bank's debit and/or credit card(s) ("Card") are eligible to avail the Offer.
The validity of the Offer is from March 24, 2017 to March 28, 2017, both days inclusive ("Offer Period"), or until stocks of the Products (defined hereinafter) made available by the sellers on the Website last, whichever is earlier, unless revoked by Amazon in its sole discretion, or revoked by the Bank, without any prior notice and without liability.
Under this Offer, any customer who, during the Offer Period, purchases any one of the following new products: (a) television, (b) washing machine, (c) refrigerator, (d) microwave; (e) air-conditioner ("Product(s)") from any seller on the Website subject to a minimum purchase of INR 10,000 (Rupees Ten Thousand Only) using the Card issued by the Bank will be entitled to receive a cashback to the tune of 10% (ten percent) of the list price of the Products (as determined by the relevant seller). It is hereby clarified that the customer will only be entitled to a maximum cashback amount of INR 3,000 (Rupees three thousand only) per Card.
The Offer is valid on multiple transactions for the aforementioned Products subject to a minimum transaction amount of INR 10,000 (Rupees ten thousand only) for each such transaction made by the customer during the Offer Period. However, the customer will only be entitled to a maximum cashback amount of INR 3,000 (Rupees three thousand only) per Card under this Offer. It is hereby clarified that if the customer purchases more than one eligible Product during the Offer Period from any seller on the Website using the Card subject to a minimum transaction amount of INR 10,000 (Rupees ten thousand only), the customer will be eligible for the cashback under this Offer.
This Offer will also be applicable on purchase of Products by the customers under an exchange offer (if available and applicable on the Products). For the avoidance of doubt, it is hereby clarified that 10% (ten percent) cash back will be provided to the customers under this Offer on the net value paid i.e. the price paid by the customers after the exchange offer has been availed [such value should be a minimum of INR 10,000 (Rupees ten thousand only)]. It is hereby clarified that the customer will only be entitled to a maximum cashback amount of INR 3,000 (Rupees three thousand only) per Card.
The cashback amount provided to eligible customers under this Offer is being funded by the Bank to the total exclusion of Amazon.
This Offer will not be applicable if the customer or seller or Amazon cancels the order and/or returns the Product and in such a case, participation in the Offer will be deemed withdrawn.
The Bank reserves the right to disqualify the customers from the benefits of the Offer if any fraudulent activity is identified as being carried out for the purpose of availing the benefits under the said Offer or otherwise by use of the Card.
Amazon and the Bank reserve the right, at any time, without prior notice and without assigning any reason whatsoever, to add/alter/modify/change or vary any or all of these Offer Terms or to replace, wholly or in part, this Offer by another offer, whether similar to this Offer or not, or to extend or withdraw it altogether.
Delinquent and over-limit Bank's credit card members will not qualify for this Offer.
The customers are not bound in any way to participate in this Offer. Any participation is voluntary and the Offer is being made purely on a best effort basis.
Nothing herein amounts to a commitment by the Bank or Amazon to conduct further, similar or other offers.
The above Offer is by way of a special offer and nothing contained herein shall prejudice or affect the terms and conditions of the card member agreement. The terms of the above schemes shall be in addition to and not in derogation of the terms contained in the card member agreement.
All disputes between the customers and Bank will be resolved inter se and Amazon will not (nor will be liable or obliged to) mediate or resolve any dispute or disagreement between the customers and Bank.
This Offer is not valid on corporate or commercial Cards.
This Offer is not available on purchase of products other than the Product.
Source – Click here