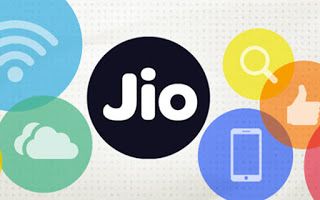 What is Reliance Jio :-
Jio, also known as Reliance Jio and officially as Reliance Jio Infocomm Limited, is an upcoming provider of mobile telephony, broadband services, and digital services in India.Now Reliance Jio Doesn't needs any explanation. Everyone is aware of it if you are our daily visitor. We are sharing some important Jio Updates in this post & Some important scam alerts you must need to know those.
#1 Reliance
Jio Grace 
Plan :-
Reliance Jio is providing a grace offer to their users who hasn't recharged with any of the Jio Specific plan such as Summer surprise or Dhan dhana dhan plan or other. Moreover Reliance Jio has even increased the deadline to join Jio Prime from 15th April to 12th October now!
Grace plan will be given to users who have not recharged with any Jio Tariff or Only joined Jio Prime Membership
Unlimited Data Usage at Reduced Internet Speed (128 Kbps)
Only Jio To Jio Network Calling (2,59,200 Mins Only)
No Premium Jio App Usage
100 SMS / Day
No Other Network Free Calling
Grace offer's Validity is given under My Plan in MyJio App
In order to get rid of Grace plan recharge with Jio Dhan Dhana Dhan plan worth Rs.309 or more – Visit here for more details
P.S. Make Jio Recharges from their official site only – Visit here to recharge
Grace plan is valid upto October 17th , 2017
#2 Reliance
Jio Prime 

Offer :-
Reliance Jio has crossed 100 million Users mark this month (Feb'17) and has made new records in Indian Telecom history. Now they have introduced their Prime Offer where you can be a member for just Rs.99 (One Time Fee) and enjoy per day net, sms & call at just Rs.10 effectively (Rs.303 monthly charges). Last date to subscribe to this plan is 15th April, 2017
Jio Prime

Offer

Membership Fee
Rs. 99/-
Plan Price
Rs. 303/- Month
Plan Benefits
Daily 4G Data
1 GB FUP (Unlimited @ 128kbps)
Voice Calling
Unlimited Free Local, STD and Roaming
Jio Premium Apps
Yes (1 Year Validity)
SMS
100 SMS per day
Video Calling
Yes (Unlimited)
Unlimited Night Data
2AM to 5AM

#3 Reliance
Jio 

Happy Hours :-

Reliance Jio knows that 1 GB Data is too less for Indian, therefore they have bought the Happy Hours effective 1st Jan onwards, where you get Unlimited Data Download & Upload for 3 hours – 2AM to 5AM Every day. Jio Apps such as JioCinema now has the Download Movies option & smart feature of Schedule download can also be seem where it will download the movie during Jio Happy Hours only. Enjoy!! Available till 15th April, 2017
#4 Jio Happy New Year 
Offer

 

:-

Jio is dedicated to provide the best 4G service experience to all its customers. Because of inadequate availability of points of interconnect from other operators, we believe that we are yet to deliver on this promise. With this objective that every Indian can enjoy the true potential of Jio's superior services almost 4 months till 31st March 2017, we are announcing Jio Happy New Year Offer.

Happy New Year Offer will continue to provide the same service you have used on Welcome Offer or on Preview offer but a daily data limit capped to 1GB

 
Do I need to buy a new Jio
SIM

?

Ans: If you are an existing customer, you donot need to buy a new Jio SIM. This offer will be automatically extended to you on 1st Jan 2017, when your existing Jio Welcome Offer expires
Offer starts from 4th December,2016. The benefits of this offer are valid till 31st March 2017
#5 Free Jio Sim till 3rd
March

 

:-

As per RJIL's filing with the TRAI, the JIO Happy New Year Offer will be available to all the customers for subscription till March 3rd, 2016. RJIL wishes to reconfirm that JHNYO benefits of free unlimited voice and data will continue to be available to all subscribers till March 31st, 2016
#6 Order Jio Sim 
Online
 :-
Jio finally launched an online portal where you can order Reliance Jio Sim online & Get its home delivery at your doorsteps. Starts from 16th November, Jio is kicking off a campaign across platforms including Facebook where users will be able to sign up for the home delivery of SIM cards.As per the TRAI directive, one person is entitled to hold a maximum of 9 SIM cards. Reliance Jio will let users schedule the time for the home delivery and will send the personnel to complete e-KYC based on Aadhaar.
News Source – Click Here
#7 Order Jio Sim Online
Scams
:-
Some scam sites are taking over peoples on Whatsapp, emails & SMS also. They claims to delivery a Reliance Jio Sim at your doorsteps in just a small cost of shipping charges. Please don't go for any such site they are 100% fake & they might share your personal data with 3rd party to make money.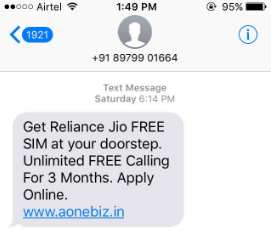 #8 Does Reliance Jio leaking your Personal
Data
?
An Indian Hacker group (Anonymous #Hackers) have claimed that My Jio app is such designed to share your personal data with foreign advertising sites of USA & Singapore. They even uploaded a proof regarding it on there social blog. Yet Reliance Jio is fail to make any statement on this, lets wait & see does this was really happening or just a havoc.
#9 You have exhausted your Account Balance / Credit
limit 
?
Reliance Jio is now blocking users who might have used their Jio sim which was provided with a LYF Handset on other 4G Device, after 3-4 GB usage some users have got this error. If you face this problem then your Data will won't work for a day but calling will be continue.
This problem can also occur if you have used any kind of trick / made use of MyJio App Older APK bugs to remove 4GB limit or to increase FUP Limit speed.
Dear User, You have exhausted your Account Balance / Credit limit
Solution to this
problem

:-

 

Call Reliance Customer Care & Tell that you are getting such issue / error. If they ask you have you tried to use Jio Sim in any other device then tell yes i have but by mistake please reactivate my Welcome offer. They will recharge the required plan & reactivate your Welcome Offer.

Reliance Jio Customer Care Number: 1800-88-99999
If you are a Jio Customer, Call 198 or 199 for general information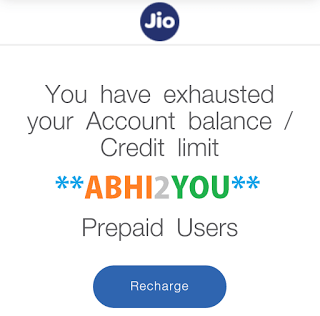 #10 Reliance Jio Daily Cap 
Limit

 

:-

 If you use more than 1GB of Data from your Reliance Jio Number, then your daily cap limit will be activated & your Speed will be reduced to 128 kbps. Which will be again restored to High speed data within 24 hours.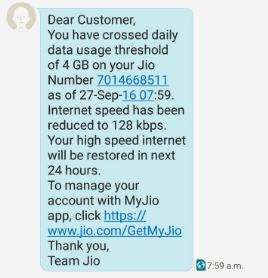 #11 Does Jio is offering 1 year of extra service to  LYF

Handsets

 

?
Recently, many technical blogs & news portals have showed the news that Jio will offer their welcome offer up till 31st December, 2017 t o their LYF Handset users in order to not to affect the sales of LYF Handsets but unfortunately Reliance Jio have clearly told that 'Welcome offer is same for all partner brands including LYF Handsets also, All will lasts till 31st December, 2016 only'. As of now its just a rumor may be.
#12 iPhone 7 Jio
Bundle

Offer till  31st Dec'17 ?

Recently, After the launch of Apple iPhone 7 – Jio attracted the Consumer market after launching their bundle offer for Apple iPhone 7. Offering 1 year extra Data & Calling benefit to their users. You might have seen many youtubers telling tricks to get free data till 31st Dec'17. Its all fake & all such tricks will be vanished after the Jio Deadline & this exclusive offer only valid for iPhone 7 Jio Bundle offer availers. Moreover, Reliance Jio started calling & confirming about the Device & other such details so chances of such tricks are minimum now.