Note

:- 

On Dominos Website, You can apply maximum 2 Vouchers on Single order.
How to Get Rs 100 Dominos Voucher at Rs 45 Only:-
1) First of all, Download Little App Here
2) Install & Open the App.
3) Login/sign up.
4) On HomePage Click on "Dominos".
5) Buy Rs 100 Voucher at Rs 45 only.
6) Pay the amount, You will get the Voucher soon.
Note:- It will show Airtel, But don't worry you will get Dominos Voucher. Personally Verified.
7) You can use 2 Gift vouchers on single order.
Dominos Unlimited Trick to Buy Vouchers from Same device (Unrooted Mobiles):-
Hey Guys, we already know Rooted mobile Trick to make unlimited. But here is simple way to create unlimited account on unrooted Mobiles. Have a look below !!
1) First of all, download App Cloner
2) Install & Open it.
3) Select the Little App.
4) Goto Privacy Options >> Tick on Exclude from Recent, Android id, Imei, wifi mac address. (Also unTick on android and choose "Generate new android id for each clone).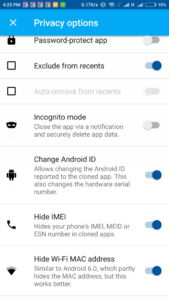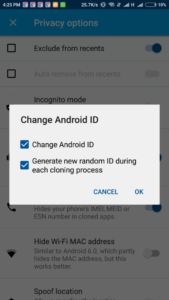 5) Now go back from Privacy option and Change clone number from 1 to 2 for 2 clones and then 3-4 for 2 more clones.
6) Now Sign up on Little and generate Dominos Gift Vouchers at Rs 45
How to Redeem:-
1. First of all, Visit Dominos Desktop Website Here Create your order and go to the Order Summary Page. IGNORE the Got a Coupon & Click on PLACE ORDER button
2. Under Choose a Payment Method, select GIFT CARD / EVOUCHER and then enter your Voucher Code (16 digits). (This Option is available only on Desktop version of Dominos website)
3. A Maximum of 2 Vouchers can be applied on a single order.
4. DO NOT click on SUBMIT CARD, if you have Multiple Vouchers. Click on ADD Card to add your second Voucher. Enter the CAPTCHA Code displayed on screen & click Submit.
5. Click on pay using Gift Cards & enter the 6 Digit PIN that's displayed in brackets along with the Voucher Code and click on redeem to place your order.
Dominos Voucher Terms & Conditions:-
1) Get a Voucher worth Rs 100.
2) Applicable ONLY on Domino's Website
3) NOT VALID on Domino's App, Mobile Site or for Offline Transactions at Domino's Outlets.
4) No minimum order value for TAKEAWAY
5) For HOME DELIVERY, if the Order Value is less than Rs 300, minimum of 1 Pizza from Core Category needs to be ordered