Brave Browser Loot – The Brave Web Browser is a fast, secure web browser app for Android with a built-in adblocker for 3rd party ads. Brave is lightning fast, safe and private, preventing you from being tracked by ads or infected by malware and pop-ups. Download the best web browser today.
Brave is a free and open-source web browser developed by Brave Software, Inc. based on the Chromium web browser. The browser blocks ads and website trackers, and provides a way for users to send cryptocurrency contributions in the form of Basic Attention Tokens to websites and content creators.
Say 'NO' to Chinese browsers which are full of ads and annoying notifications. Brave is a US based company. The browser is based upon Chrome Open-Source (Its just like chrome).
So Surf on Brave, You will get rewards which you can donate to your favorite creators and keep on supporting them forever!! Isn't amazing? 
Also See- Check Laptop Sale Handpicked Deals from Flipkart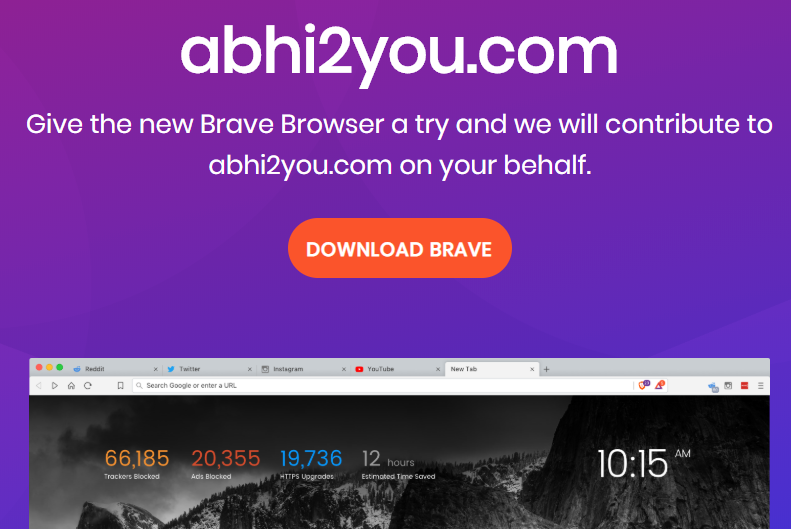 Getting Started with Brave Browser Loot?
Firstly, Download Brave Browser app from below Link
Start Using brave as your default browser.
Please Note – Just use normal browsing in a day to show your active.
No need to connect any vpn. Just keep the browser and open daily. (You will love the smoothness of the brave browser loot.)
Features of Brave Browser:
Fast browsing: by blocking trackers and intrusive ads that slows down the browsing
Secure browsing: blocks harmful advertising and redirects sites to HTTPS using HTTPS Everywhere
Privacy: blocks tracking Pixels and tracking Cookies
If you are a Creator:-
To create your own referal link go to : https://brave.com/refer/
A qualified referral is a user who downloads Brave browser using the promo link below and uses Brave minimally over a 30 day period.
Note :- Create a YouTube Channel if You don't have a website or YouTube channel
How to withdraw ❓
It gives rewards as BAT and that can be withdraw in Uphold wallet. From Uphold you can get Bitcoin and total 9 cryptocurrencies including BTC, XRP, Ethereum etc to any wallet.
Sold bitcoin to any user and get real cash from them or use Bitbns to sold BTC.
Conditions:
Your referred user must use the app for a minimum period of 30 days.
Go to link to download app, then sign-in with same Gmail which is on YouTube.
If u don't have YouTube channel, You can put your website link & later verify it.