PayPal Payment Gateway is now being accepted on many apps and sites, one of the most popular movie, events booking site BookMyShow is now accepting PayPal in India as a payment mode.
As a promotional offer, Book Movie/Non-movie through PayPal between 8th November 2017 till 10th December 2017 and get Rs.125 discount voucher for your next booking which you can use from 16th November 2017 to 10th Jan 2018.
The best thing about this offer is that there is No Minimum Purchase Required to avail this offer means you can look for the lowest price ticket available in the country and book that in order to get Rs.125 Off Voucher of BookMyShow.
Offer is now valid on a minimum ticket of Rs.400! So don't try this now!
PayPal Offer Source – Visit here
How to get Rs.125 Off
Voucher

in Rs.20 :-
Enter all the details & add/link your Credit/Debit Card
Select Location as 'Mumbai'
Choose Movie as 'Dilwale Dulhaniya le jayenge – DDLJ'
Click on the available show in 'Maratha Mandir: Mumbai Central'
Move further select Stall Seat of Rs.15
Now you have to pay a total price of Rs.20.90 (5.90 as Tax/fee)
Enter your Email (Same as in PayPal) and mobile number
Now Select Payment mode as Wallets (Card Vault) > PayPal
Use your PayPal username and password to login on PayPal
Pay the required amount using your PayPal
That's it! You will get your discount voucher of Rs125 sms & emailed within 72 hours of transaction.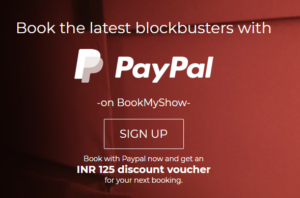 Offer Email

Proof

:-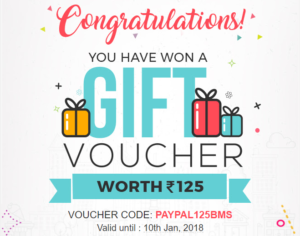 You can use this generic code with the same email ID you used to book using PayPal!
Offer Terms and 
Conditions 

:-
To Pay the remaining amount select PayPal from the card vault section and complete the payment.Please note,the offer is only valid if the payment is made through Paypal
The voucher is valid from 16th November 2017 to 10th January 2018
Voucher can be redeemed ONLY on bookmyshow website mobile app(IOS,Android,Windows).They cannot be redeemed directly at the Cinema/venue box-office.
Voucher can be redeemed on purchase of eticket for Movies/Plays/Concerts/Sports Or Merchandise (if any) available on bookmyshow.
If lost,misused, the Voucher cannot be replaced. Void if resold, cannot be exchanged for point(s) or cash and cannot be re-validated once past expiry date.
In addition to these Terms and Conditions, BookMyShow Voucher & their use on our website are also subject to BookMyShow's general Terms of Use & BookMyShow's decision will be final in case of any dispute.
Validity period of the voucher code – 16th November 2017 to 10th Jan 2018
The voucher will be given only for transactions done from 8th November 2017 till 10th December 2017
Voucher Terms &

Conditions

:-
The voucher is valid from 16th November 2017 to 10th January 2018.
Voucher can be redeemed 

ONLY

 on BookMyShow website mobile app (

IOS

,Android,Windows).They cannot be redeemed directly at the Cinema/venue box-office.
Voucher can be redeemed on purchase of e-ticket for Movies, Plays, Concerts, Sports or Merchandise (if any) available on BookMyShow.
If lost, misused, the Voucher cannot be replaced. Void if resold, cannot be exchanged for point(s) or cash and cannot be re-validated once past expiry date.
In addition to these Terms and Conditions, BookMyShow Voucher & their use on our website are also subject to BookMyShow's general Terms of Use & BookMyShow's decision will be final in case of any dispute.
BookMyShow may change (add to, delete, or amend) these terms from time to time. Unless stated otherwise, the changes will apply to any new BookMyShowVouchers that are for personal, non-commercial use and enjoyment only.
The same may be shared with family and friends, but may not be advertised, sold or used as promotional items by the purchaser or anyone else without BookMyShow's prior written consent.