Niki welcomes you to experience the future! You can now book a cab, recharge mobile, pay postpaid & DTH bills, bus booking, order food, have laundry service, and much more simply via chatting. It will be able to evolve and personalise as you keep interacting with it.
Niki this June end is offering the #DropThePrice Sale where you can get products for free, all you need is to ask your friends to help you by dropping the product price of your desired product by clicking on the link/ via Niki app. Just like Mi Midweek madness offer.
Bonus – The total amount dropped by you will be given as Amazon Gift Voucher to you if you are not able to complete the drop for your free product! So its a Win win situation 🙂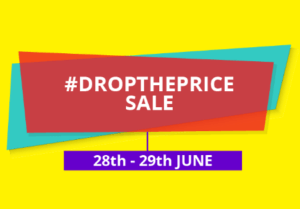 Products to be Won
How to Get Free Products on Niki App
Use Referral code – 'umesh987' to get Rs 30 Credits on Sign Up
Open the App & Type 'Drop the Price'
Select an Item of your choice
Call your Gang to drop the price
Share link with your friends, Each friend drops the price
Friends will help you to make the price Rs 0
Important Points
There is a total of 100,000 products that will be under this Contest.
After we confirm the amount earned by you, we will email you the amount earned & will deliver the prize as per the contest schedule.
Terms & Conditions
This Contest will commence from June 28th, 2018 at 10:00:00 a.m. IST and end on June 29th, 2018 at 11:59:59 p.m. IST ("Contest Period").
In order to be eligible for the Contest, during the Contest Period you must: (a) Open or download the mobile application of Niki.ai ("Niki.ai App"); and (b) thereafter, sign-up from an account on the Niki.ai App.
Upon logging in, you need to select a product from the product list & invite your friends to drop the price of the product.
Once your friend has successfully downloaded the app, he/she can click on drop the price of referrer's product and reduce the price to a random amount automatically, chosen by the system based on multiple parameters.
The amount earned by you, or the total price dropped by friends for your product, through Contest will be awarded to you in form of prize(Amazon Gift Card).
Participant can redeem the prize on Amazon.in & purchase the product from Amazon.in website.
Each participant will be eligible for getting the price dropped for only one product under this Contest.
Each participant can drop the price only once for a product
2 exclusive products will be available for Elite User.
The prize for eligible participants will be delivered to them within 10 -15 working days.
The maximum amount that a participant can get dropped is equivalent to the selected product value as observed on 26th June 2018.
Only new users (new means unique phone no, email and mobile device) can drop the price of the product
Existing users can invite friends to drop the price of the product.'
Source- Click here