Future Pay is a digital wallet for shopping across Future Group stores such as Big Bazaar, Ezone and Home Town. FuturePay allows you to pay for your grocery shopping or any other shopping at BigBazaar, EasyDay Club, Brand Factory, Central Easily with just sharing your Mobile Number & OTP for authentication.
Shop between 28th or 29th July for Rs.5000 or more, You will receive Rs.1000 as Cash in Future Pay's Big Bazaar Wallet which will be added as 200 starting 1st Aug'18 for 5 Months till Dec'18.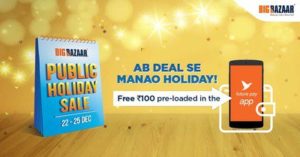 How to get the Offer :-


Login/Register
Now Load money in your FuturePay Wallet
Visit your Nearest BigBazaar Outlet
Shop for Rs 5000 or more (Single Bill)
Pay entire bill using your FuturePay Wallet
That's it! You will get Rs 200 Monthly Credited in your account for the next 5 months.
Note – You can also connect your Big Bazaar Profit Club Card or PayBack cards & Redeem more rewards.
How to Use 
FuturePay

to Pay :-
Terms and 
Conditions 

:-
Offer valid only if the shopping is over Rs.5000 in a single bill from 28 & 29 July'18
Offer valid only if the shopping is over Rs.5000 in a single bill from 28 & 29 July'18
It is not mandatory for a customer to pay by Future Pay to avail the Cash in Future Pay's Big Bazaar Wallet Offer
The details of the offer: On shopping of Rs. 5000 or more, Customer will receive Rs.1000 as Cash in Future Pay's Big Bazaar Wallet which will be added as 200 starting 1st Aug'18 for 5 Months till Dec'18
There is no minimum shopping required to redeem the Rs.200 Cash in Future Pay's Big Bazaar Wallet
Unutilized promotional balance will expire at the end of the month and will be deducted from the wallet
Rs.200 Credited as Cash in Future Pay Wallet will always be deducted first in case of spends with Big Bazaar Wallet
Customer needs to download and register on the Future Pay App with the mobile number given at the time of billing to the cashier by 30 July'18 to receive the Cash in the Big Bazaar Wallet
Cash in Big Bazaar Wallet can only be redeemed at Big Bazaar, 

FBB

, Food Bazaar, HyperCity & E-Zone
In case of multiple bills with the same mobile number provided, only the first bill will be considered for the offer
Big Bazaar reserves the right to change, amend, modify, suspend, continue or terminate all or any part of the offer at any time without notice
Future Pay App can be downloaded from Play Store or App Store or by giving a missed call on 8010 35 0000
Any dispute should be referred to the Future Retail Limited & the decision of the Company shall be final
All legal disputes are subject to Mumbai Jurisdiction
The Cash in Future Pay Wallet is non-transferable, which means you cannot transfer it into another wallet
Unlawful modification or abuse of the offer is prohibited
In addition, Future Pay terms and conditions shall also apply to the cash given in the Future Pay Wallet
For more detail customers can contact Call Centre number 1800 210 1818 or email at 

[email protected]

…in
In case of any discrepancy with offer or with non-receipt of Cash in Future Pay Wallet, it is mandatory for the Customer to present a physical bill
Offer is only valid in all Big Bazaar, fbb, Food Bazaar, Ezone & Hypercity stores