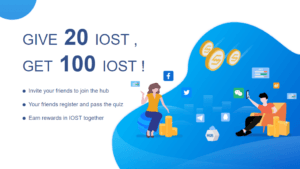 The successful launch of IOST testnet – Everest v0.5 triggered a huge response across our community. We were amazed at the reaction and became even more determined to grow awareness of IOST far and wide.
To celebrate the official launch of the IOST Community Hub, IOST will be running a week long referral program to reward dedicated community members who help the community grow even bigger! This is a one of a kind event, and will be one of the largest referral giveaway programs ever, with massive rewards and individual prizes of more than 1,000,000 tokens up for grabs! 1 referral alone will earn up to 600 IOST.
Just Refer 10 friends & Get 100 IOST Coins per refer. You need 1000 IOST Coints to withdraw & Sell.
Current Rate of IOST Coin-
1 IOST coin = Rs. 2.15 In WazirX Exchange
IOST Coin Value In Jan, 2018 was Rs. 9
Expected IOST Coin Value in Dec, 2018 – Rs. 15+
How to Avail the Loot Offer Free IOST Coin?
Sign Up for your account > Verify your mobile
Answer the 2 questions asked as 'All of the above' to get 20 IOST Coin Free
Refer & Earn
Visit IOST Referral page from here
Click On Invite Button, Now You Need to Verify Your 2 Social Media Accounts To Get Your Refer Link (I have selected – Reddit & Twitter.)
Now you can get your referral link to start earning free IOST Coins
Share Your Referral Link With Your Friends To Get The 100 IOST coins for free (Worth Rs.215) On Each Refer.
Minimum Withdraw is 1000 IOST Coins Only, So You Only Need To Refer 5 Friends.
You Can Withdraw IOST Coins In Binance Exchange Or WazirX Exchange With IOST Address.
Referral Program Rules:
1. The event will be held from 10:00 am (CST, GMT+8) on July 23, 2018 to 10:00 am (CST, GMT+8) on July 29, 2018.
2. You will receive your Invite a friend reward only after your referee correctly answers the quiz. Referral Achievements and Top Referrer Prize will be awarded within 5 working days after the event ends.
3. If cheating or system manipulation of any kind is discovered, the associated accounts will be permanently blocked and all rewards will be cleared. IOST will not reward users who try to manipulate the system with spam accounts, non-real users, automated scripts, system vulnerabilities, or other suspicious activities.
4. All tokens credited to an account can be withdrawn after 30 days
5. If you discover any foul play from the event, you can report it to
[email protected]
and we will reward the whistleblower with 5,000 – 50,000 IOST.
6. The final interpretation of actions within this event will be determined by the Internet of Services Foundation. If you have any questions please contact:
[email protected]