Droom – Founded in April 2014 in Silicon Valley, Droom is India's first & largest marketplace to buy and sell new and used automobiles and automobile services. Droom has taken a completely innovative and disruptive approach to build trust and pricing advantages for buyers.
GETPERFUME – Droom understands why trust is the most important thing when you are going to buy a used vehicle. Buying a used automobile from an unknown person or dealer is full of pain points, friction and pitfalls.
As a promotional offer, they are offering a branded Car Perfume at just Rs 21 only in an exclusive flash sale on 11th July, 2018 at 11:00 AM. Register now to take part in the flash sale!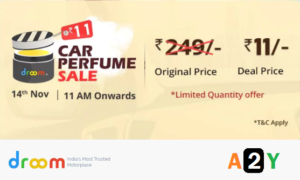 How to Get Car Perfume at Rs11 from

Droom.in

:-
1) First of all, Visit Car Perfume Sale Page Here
Visit Droom Offer Page from here
2) Enter your Mobile number, Email & Name and Submit.
3) Now You are Registered for Sale.
4) On 11th July, 2018 at 11am Visit on Same Link.
5) Click on the banner.
6) Login/Sign up on Droom.
7) Add the Car Perfume to your Shopping.
8) Apply Coupon:- GETPERFUME
9) You will get the Car Perfume within few days in your Shipping addresss.
10) Enjoy !!