Kotak 811 Mobile Account: Earn up to 6% p.a. interest on savings account balance over ₹1 lakh and up to ₹1 crore. A fully functional 0 Balance Account for free. Instant opening of your savings account with Kotak 811.
Now Refer your friends to Kotak811, recommend them to open a free and easy online Kotak811 account & start banking smartly from mobile. Kotak811 offers the best support, offers, banking facilities at reasonable charges & high interest.
You will get Rs 250 worth Bookmyshow movie voucher on 3 Refers. Your friend should download & open a Kotak811 account, then you will get Rs 250 Bookmyshow voucher.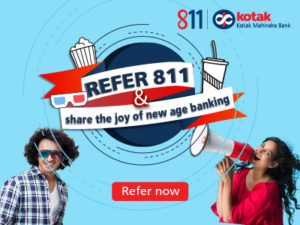 Kotak: Free 2 Night Stay at Club Mahindra Resorts
How to Avail the

Offer

?
Install the App > Once installed Open Kotak 811 app
Use Referral code (if asked) – '13924/511659'
Fill in details i.e. Name, Email id, contact number > Verify OTP
Add aadhar details & OTP confirmation
Now on the Next page add Pan Number, salary, Occupation, FATCA declaration
Complete all the details & Congo! Your Account will be Opened 🙂
You might be require to complete your KYC using Aadhaar, wait for call from an executive from Kotak Bank
That's it! Your Rs 0 Balance Savings account or specifically Kotak811 account is opened & active.
Know Here: Rs 75 extra on Linking account on PhonePe
You can access kotak netbanking, virtual card, money transfer (neft/imps) free!
How to Refer &

Earn

?
Enter your Name & Kotak811 Registered Email Address
Now you will see refer option, select copy link or share on facebook, whatsapp, etc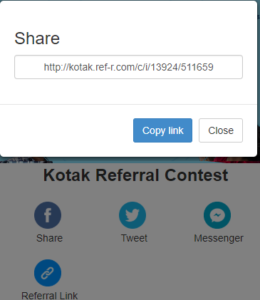 Start referring Kotak811 to your friends/family. You can also check how many friend successfully sign up and converted.
Else open kotak 811 app> Kotak 811 option > menu > refer friend to kotak811
How to Redeem the

Voucher

?
Select from Bookmyshow, amazon, lifestyle
Now Select the amount as Rs 250 & proceed
Enter your Card Number & PIN Received from Kotak via e-mail
That's it! Your Gift card will be mailed to you within 2 minutes.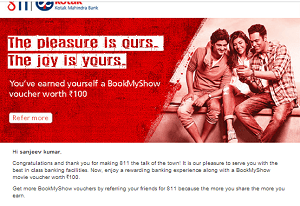 Kotak will mail you a card number & Pin which you need to redeem your cash
Terms & Conditions
1. This offer is made to Kotak Mahindra Bank ("Bank") for Kotak 811 customers
2. This Offer is valid till 31st August, 2018 ("Offer Period")
3. A referrer is any Kotak 811 customer who refers anyone to open 811 account through
"Refer 811" option available in post login Mobile Banking App.
4. A referee is a new user who receives a referral link from the referrer to open Kotak 811
account and does not have any existing or previous relationship with the Bank
5. The referrer will be eligible for a BookMyShow ("BMS") voucher worth Rs. 250/- only if
minimum of 3 referees uses the link shared by referrer for opening the 811 account within
the Offer Period. The referee should get the complete account activated using the link
shared by referrer in one go without dropping the journey in between.
6. The referrer can refer any number of people to open 811 account, however the referrer
will be only eligible to get a Rs. 250 BMS voucher once during the offer period if the offer
conditions are met.
7. If eligible, a referrer will receive BMS voucher within 30 working days from the offer expiry date.
8. Referee will not be eligible to get any voucher under this Offer.
9. The referee should not be have any existing or previous relationship with the Bank. Any
811 account opened by the customer already having any existing relationship with the Bank will not qualify as a successful referral.
10. The referee should open the account using the link shared by referrer only. Bank shall, in no way, be liable in the event the referee fails to use the link to open the account in one
go resulting in referrer becoming ineligible to avail the offer
Source- CLICK HERE