Amazon Steal- Get 100% Cashback on Cashload (All Users)
Amazon is offering an amazing offer where you can get double the amount of money when you load your change into Amazon Pay Balance. In order to avail this offer you need to order something through Pay on Delivery option and load minimum Rs 10 to your amazon pay balance to Get 100% Cashback on Cashload (All Users).
Its very Beneficial for Prime users, as they can order books that amazon sell at 10-15rs without any delivery charges and load money at the time of delivery in your account & Get it doubled.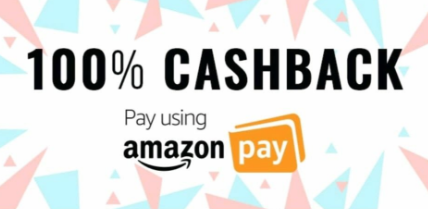 Offer Overview:
Min Amount to Add- Rs 10
Maximum Cashback- Rs 50
Offer Period: 1st-31st Dec, 2018
Valid once per user per month
Valid for all users, check t&c
Cashback within 7 days from date of cash load
How to Get 100% Cashback on Cashload ?
Visit amazon from below link
Shop for any product
Add it to cart & Proceed to Checkout
Choose Pay On Delivery Option
Place your order and at the time of delivery add minimum Rs 10 to your amazon Pay Wallet to double it under this offer.
Offer Source- Click here
Product Suggestions
P.S. Use amazon prime account to order and get free shipping.
Terms & Conditions
This Double your Change offer ("Offer") is made available to you by Amazon Pay (India) Private Limited ("Amazon"). The Offer will be made available on the website www.amazon.in and the mobile site and mobile application thereof (collectively "Amazon.in")
These Offer terms and conditions ("Offer Terms") are in addition to the Terms & Conditions applicable to Amazon Pay Balance and the Conditions of Use and Privacy Notice of Amazon.in, to which you agree to by using Amazon Pay balance / Amazon.in, as the case may be. In the event of any conflict between such terms and these Offer Terms, these Offer Terms shall prevail, only for the purposes of this Offer.
You may only avail this Offer if you are: (a) a person resident in India; (b) have set India as your current country in your account settings on Amazon.in; and (c) have a billing address in India.
This Offer will commence on December 01, 2018 and continue till December 31, 2018 (both days inclusive) ("Offer Period"), unless extended or revoked by Amazon at its sole discretion, without prior notice and without any liability.
During the Offer Period, any customer who:
(a) makes any purchase from Amazon.in and selects the 'Pay-on-Delivery' payment option (if available) for the payment of such purchase ("Purchase Transaction");
(b) makes payment for the Purchase Transaction in cash to the delivery associate at the time of delivery of the order under the Purchase Transaction; and
(c) chooses to load at least INR 10/- in cash as Amazon Pay Balance in his/her Amazon.in account at the time of delivery of the order ("Cash Load") will be entitled to receive an additional cash-back equivalent to the amount of the Cash Load as Amazon Pay Balance, subject to the limits prescribed in these Offer Terms (the customer who satisfies all of the above conditions, "Eligible Customer").
Under this Offer, an Eligible Customer shall be entitled to a maximum cumulative cashback of INR 50/- per Amazon.in account, across multiple Cash Load transactions during the Offer Period.
The cashback under this Offer shall be provided in the form of Amazon.in Gift Card, issued by Qwikcilver Solutions Private Limited ("Gift Card"), which are redeemable into Amazon Pay Balance. The use and redemption of the Gift Card(s) is governed by the Amazon.in Gift Card Terms and Conditions, available at: http://www.amazon.in/gp/help/customer/display.html?nodeId=201522810, which you agree to adhere to by using the Amazon Pay Balance.
The Eligible Customer will be eligible to receive cashback under this Offer only in the event Eligible Customer: (i) makes payment in cash for the Purchase Transaction, and (ii) loads his/her Amazon Pay Balance at the time of delivery of the order under the Purchase Transaction.
The Gift Card for the cashback will be provided to the Eligible Customer within 7 calendar days from the day the Eligible Customer makes the Cash Load.
The Purchase Transaction of an Eligible Customer will be governed by the Amazon.in Conditions of Use & Sale to which he/she has agreed to by using Amazon.in.
Amazon or any of its affiliates do not endorse any of the products or brands being offered on Amazon.in or purchased under the Purchase Transaction, and will not accept any liability pertaining to the quality, merchantability, fitness, delivery or after sales service of any products.
This Offer will not be applicable if the order under the Purchase Transaction is returned or cancelled by the Eligible Customer to the seller or Amazon Seller Services Private Limited (the entity operating Amazon.in). It is clarified that such cancellation or return may be for any reason whatsoever.
Amazon reserves the right to disqualify an Eligible Customer from the benefits of the Offer if any fraudulent activity is identified as being carried out for the purpose of availing the Offer.
Under no circumstances, will the benefit under this Offer be provided in cash by Amazon.
By participating in this Offer, every Eligible Customer expressly agrees that Amazon or any of its affiliates will not be liable or responsible for any loss or damage whatsoever that he/ she may suffer, directly or indirectly, in connection with this Offer.
Any query / issues regarding the Offer will be entertained by Amazon only during the Offer Period. Post the expiry of the Offer Period, Amazon will not entertain any correspondence or communication regarding this Offer or the cashback from any person.
Amazon reserves the right, at any time, without prior notice and without assigning any reason whatsoever, to add/alter/modify/change or vary all of these terms and conditions or to replace, wholly or in part, this Offer by another offer, whether similar to this Offer or not.
Nothing contained herein amounts to a commitment by Amazon to conduct further, similar or other offers.
These Offer Terms are governed by the laws of India. Any disputes arising out of this Offer shall be subject to the exclusive jurisdiction of the courts at New Delhi.
Eligible Customers are not bound in any manner to participate in the Offer. Any such participation is voluntary and the same is being made purely on a 'best effort basis'.
Any person availing this Offer shall be deemed to have accepted these Offer Terms.