Lybrate Free Tropicana Sample
Lybrate Free Tropicana Sample – Lybrate always been scared about trusting health-related information that is available online. However with Lybrate, We can be sure that the advice I get is from from genuine doctors. All Doctors present on Lybrate go through a stringent verification process.
Lybrate is a very trusted website, we have already received many samples/freebies from them – Like- Dettol Mom's Sample worth Rs 140 at Rs 29, Etc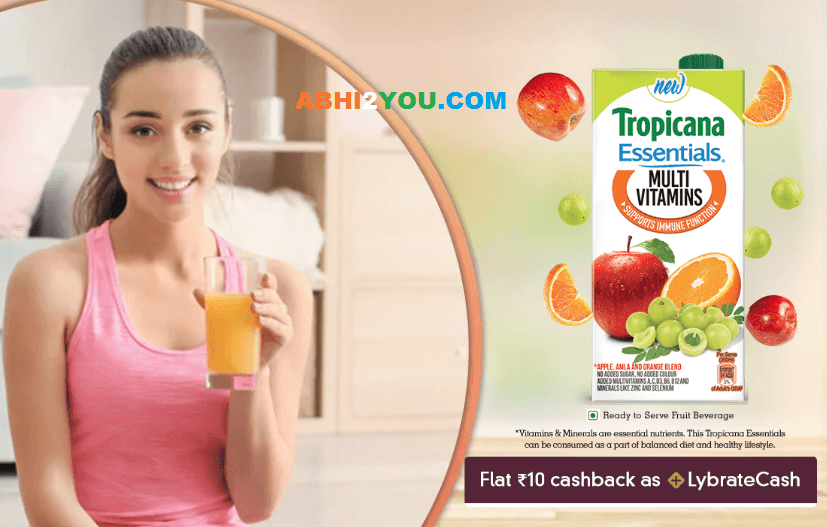 Now Lybrate is offering Tropicana Essentials – Multivitamin 200ml (Pack of 2) ₹60 for Free, here just pay Rs 10 Shipping charges. Moreover, you will get 100% Cashback on Shipping charges as Lybrate cash.
Lybrate cash is 100% redeemable on your future orders on Lybrate, so its a totally win-win deal, and absolutely free sample you are getting. Avail this offer now!
Note– Delivery is limited to Select Cities only
Also Checkout– Get Horlicks/Ceregrow Free Samples from Lybrate
How to Avail Lybrate Free Tropicana Sample ?
Enter the required details
Now Click on "Get your Free Sample now"
Make the payment of Rs 10 with the available options
Select Credit card/ Debit card/ Net banking / PhonePe option
Pay required amount, You will get 100% Cashback of what shipping charges you pay in form of Lybrate Cash
Done! Your order will be placed.
Features of the Sample
It contains 100% squeezed juices with added vitamins to help you get a nutrition boost. Tasty blend of Orange, Apple and Amla. Supports immune function and meets 30% Daily Requirement of 5 Immunonutrients: Vit C, B6, B12, Zinc, Selenium