Realme R Power Challenge
Realme R Power Challenge– Realme is back with an offer where they will archive a viral status across Social Media. Its just like the previous Mi offers where you need to share & collect points to win various freebies or discount codes.
Now Realme has come up with R Power Challenge where you can collect Free R Power & Share with your friends & Family to earn more R Power, this will increase your ranking in the contest and you will come on the winners leader-board.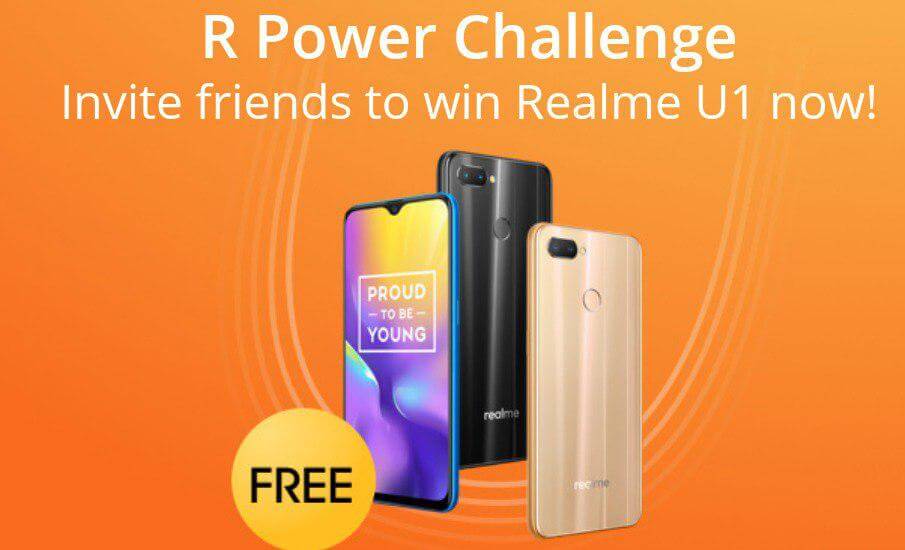 Also See– Paytm MONTHLY20 Loot- Get Rs 20 Free Recharge + Rs 10 in Wallet
How to Win Realme R Power Challenge :
Click on 'Send R Power' Button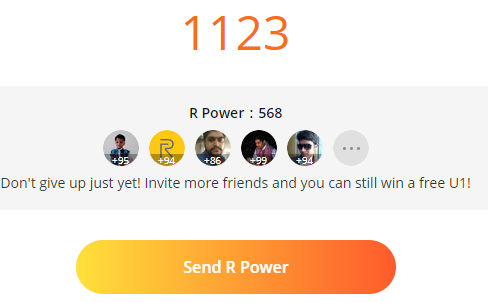 Login/Register a new Realme Account
P.S. If verification message is coming late, try to register using Email address. You will get instant OTP on Email.
Click on Start My Challenge > Get your R Power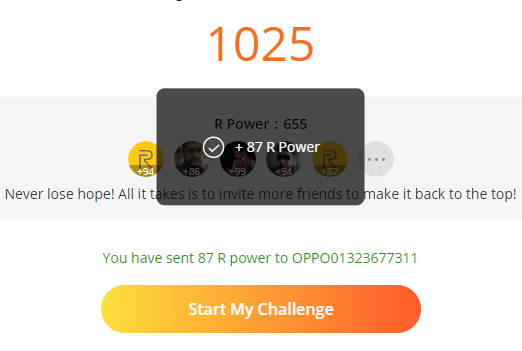 Start Sharing with others to earn more R Power
RealMe Challenge Unlimited Trick Posted here- Click here Now
Prizes to be Won:
Top 1-10 Users: Free Realme U1
Top 11-60 Users: 50% off on Realme U1
Top 61-160 Users: 20% off on Realme U1
Top 161-560 Users: 50% off on Realme Buds
All participants: An Exclusive Medal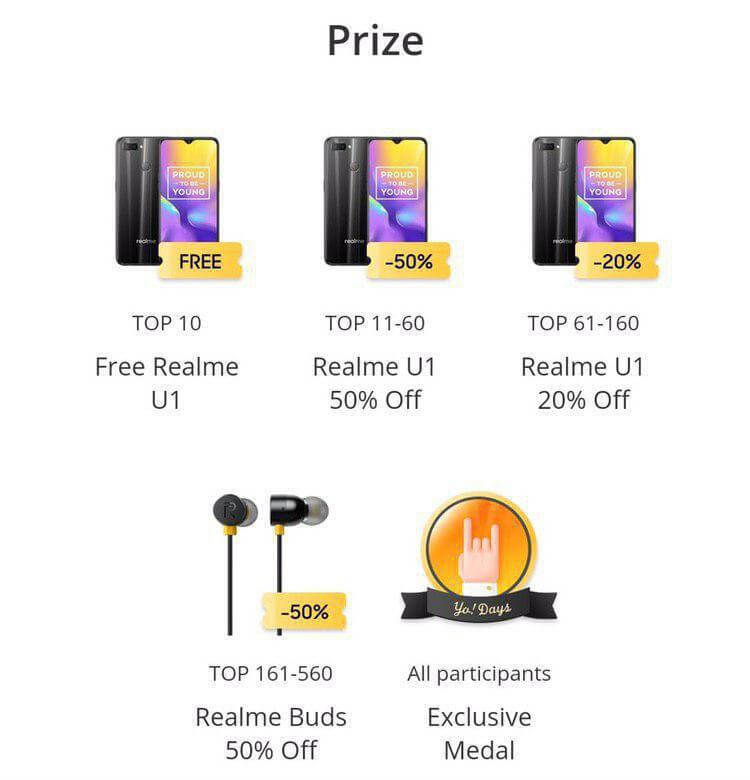 Realme Yo Days Offer Terms:
1. Activity period: Jan 3rd to 6th , 2019. The winners will be announced on Jan 6th.
2. Top 560 participants by Jan 6th at 12:00 pm will be declared winners and win the corresponding listed prizes. Other participants will win Realme Community medals.
3. Every participant will have 100 default R Power, which can be increased by sharing this activity with their friends.
4. Users can help each other increase their R Power daily, but one user can help another user only one time per day. R Power will increase by a random value between 80 and 100.
5. Realme will send coupon codes to winners by mail or SMS before Jan 7th. Coupon codes can be used only by winners' Realme account to buy featured products on Realme India Web Store from Jan 7th to 9th – coupon codes will expire if not used within this timeframe.
6. If two or more participants achieve the same R Power in the last place of each section, the one who has reached such R Power level first will win the prize.
7. Top 10 winners will get a free Realme U1 and will need to place their orders on Realme India Web Store. Winners of the 50% off coupon for the Realme Buds will be charged shipping fees.
8. Realme reserves the right to disqualify participants who do not respect the rules of the R Power Challenge.