RozBuzz App – Wemedia system is real benefit to all writers, and that also benefit them a lot, imagine that you are finding a job, I have posted 10 articles on rozbuzz & got more than 10K views of each.
You can earn money by writing simple articles at home on wemedia and then they can see their post on rozbuzz which we have more than 5M users on it, more than 10000 free lancer on wemedia, more than 2000 people get paid and many are earning 10K+
Join RozBuzz today and easily earn by just writing, I have personally used WeMedia for around 2 months now and already earned a fairly good amount. You can also give it atleast a try as No Investment is required!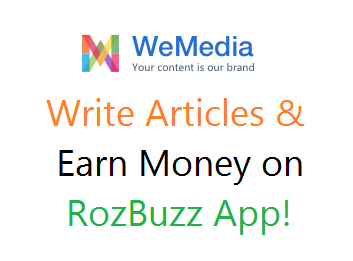 About WeMedia ?
WeMedia is a democratised platform. An open brand where you do not have to struggle to build an online presence. From the time of registration in WeMedia to the process of using it, we provide all our services for free, now and forever.
We as a content aggregator provide content to our fellow partners MI browser and Rozbuzz. Being a content provider to MI browser and Rozbuzz our users have increased to 5Millions.
Also See– Vova App Freebies Loot- Get Free Headphones, Speaker & More
How to Join RozBuzz App Program ?
Firstly, Visit Wemedia website from below
Sign Up for a new account, enter your number & verify it
Once your ID on wemedia is created, choose a WeMedia Name, Description, and other require fields
P.S. Enter details according, on which topic you want to Write articles & earn money
Enter your Blog, Social media links & Finally Submit the form
Now you will get a mail/sms from WeMedia once your account is approved.
Once approved you can login to Wemedia page & Start posting articles, your Posts will appear in RozBuzz app from where you get traffic on your articles
Download RozBuzz app from below Link
Keep reading other's articles & write articles to earn money according to the views your article gets.
Writing Articles on WeMedia ?
In order to Earn Revenue on WeMedia you need to become 'Advance' user first
In order to become advance your WeMedia account should be 2 weeks old & minimum 7 Unique posts should be written by you. WeMedia team will notify you once your account is switched to 'Advanced'
Till the time you are not an Advance user, you can participate in Competitions running at WeMedia & Win
You can publish Articles or Video on WeMedia
Check various Competitions Running on WeMedia on Articles as well as Video Posting.
Watch this Video if you want more information :