Big Bazaar Holi Game
Big Bazaar Holi Game – Holi is approaching, and Big Bazaar knows how to treat their users and give them a solid reason on why to shop from Big Bazaar this Holi. Play a new interactive Holi Game from Big Bazaar & Get Free Vouchers.
The BigBazaar's Holi Game is a skill based game which incentivizes users to play, earn points & convert them into coupon to Shop during this festive season of Holi across Big Bazaar stores.
In this Game you need to keep the player safe from Holi Baloons and help him to complete the path within 120 seconds. Complete the whole path avoiding obstacles & keep gaining points you will be given 120 seconds only.
Also See– Amazon Add Money Offer- Get Rs300 Cashback on Rs5000 Cashload
Prize to be Won?
Task: Complete the Game within 120 seconds
Reward: Get a Rs. 100 off on shopping of Rs. 1000 code
TnC: Not valid on 'Food' items
How to Avail Big Bazaar Holi Game?
Visit BigBazaar Holi Game from below link
Click on 'How to Play' Mark button to get to know how to play the Game
Once you understood, Click on Play '>' Button to start playing
Complete the game within 120 seconds!
Once completed click on Redeem & Proceed entering your details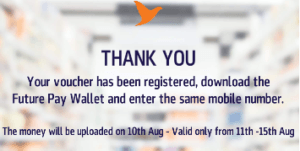 Big Bazaar Holi Game Terms-
1. Holi Game is a skill based game which incentivizes users to play & win Shopping vouchers
2. To unlock coupon, the users need to reach the Big Bazaar stores within 120 seconds.
3. This game will enable user to avail shopping coupons of worth Rs 100 off on shopping of Rs 1000/-. The coupon is not valid on food and groceries item.
4. User can register with a unique and valid name and mobile number.
5. Details entered if not valid will not be considered and the user will not receive any coupons and rewards. Please ensure that the mobile number is not on DND, to receive the coupon through SMS
6. One number will receive max 1 coupon.
7. The eligible mobile numbers will receive the Big Bazaar shopping coupons within 48 hours of submitting the score, through an SMS. Please ensure that the mobile number is not on DND, to receive the coupon through SMS
8. Any data breaching and hacking is subject to strict and legal action against the user.
9. The customers can redeem the coupons at the nearest Big Bazaar
10. FRL shall not be liable in the event it fails to fulfil any of its obligations under this terms and conditions due to flood, earthquake, storm, cyclone or any other acts of god of similar nature, war, strike, lockout, or governmental or judicial or quasi-judicial policies/intervention/direction /prohibition or change in law or for any technology/network failure or any other reasons beyond its control.
11. An entrant to this activity indicating his/her agreement to be bound by these terms and conditions.
12. If FRL finds out any illicit activities, fake profiles or bot users creating multiple accounts or tampering the gaming, those users will not be counted or gratified
13. In case of any dispute, the decision of FRL shall be final and binding on all concerned and Courts in Mumbai shall have exclusive Jurisdiction.
14. FRL reserves the right to modify these Terms and Conditions and such changes shall be deemed effective immediately.