Horlicks/Ceregrow Free Samples
Horlicks/Ceregrow Free Samples – Lybrate always been scared about trusting health-related information that is available online. However with Lybrate, We can be sure that the advice I get is from from genuine doctors. All Doctors present on Lybrate go through a stringent verification process.
Now Lybrate is offering Mother's Horlicks, 25g pack for free where you are just required to pay Rs 10 Shipping charges & Nestlé Ceregrow free sample, here just pay Rs 15 Shipping charges. Moreover, you will get 100% Cashback on Shipping charges as Lybrate cash.
Lybrate cash is 100% redeemable on your future orders on Lybrate, so its a totally win-win deal, and absolutely free sample you are getting. Avail this offer now!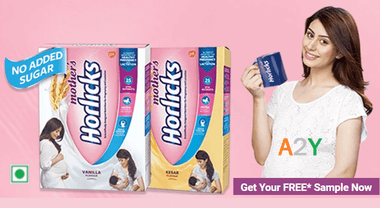 How to Get Horlicks/Ceregrow Free Samples ?
Enter the required details
For Mother's Horlicks Sample Follow below Guidelines:

Gender as Female & Age between 25-35
Now Click on "Get your Free Sample now"
Make the payment of Rs 10/15 with the available options
Select Credit card/ Debit card/ Net banking / PhonePe option
Pay required amount, You will get 100% Cashback of what shipping charges you pay in form of Lybrate Cash
Done! Your order will be placed.
Mother's Horlics Benefits-
Mother's Horlicks with 25 vital nutrients is nutritionally designed for pregnant and lactating women. Mother's Horlicks contains micronutrients known to support healthy birth weight of the baby, DHA and choline for brain development and calories to help meet the increased demands of energy in pregnancy.Now, it comes with No Added Sugar.
The Mother's Horlicks is also high in protein and helps provide 100% of daily requirement of Vitamin B2, B12 and C for pregnancy; Vitamin B2, Iron and Folic Acid for lactation.