Amazon 3rd May Quiz Answers – Amazon is back again with new quiz, answer 5 simple questions and win a whooping amount of Rs 20,000.
Don't forget to join us on telegram and never miss any update – https://telegram.me/A2YOfficial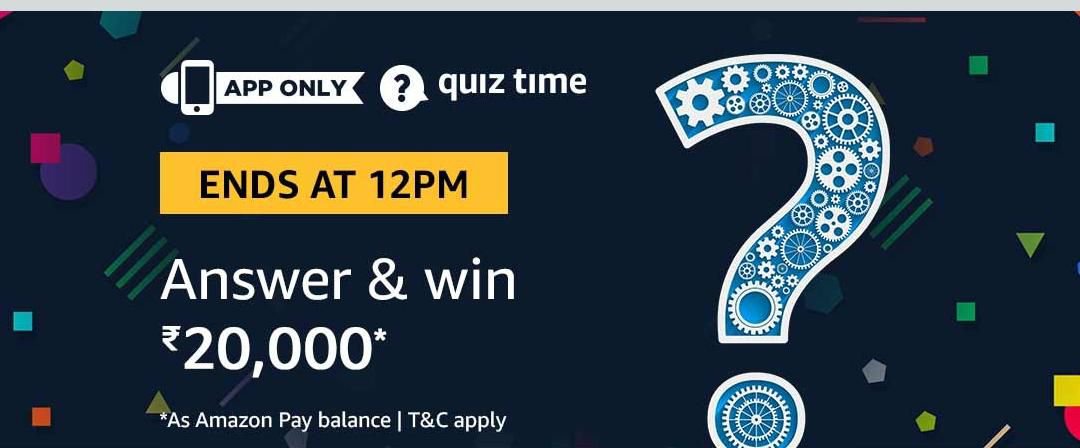 Amazon Quiz Answers –
Q1) Podiatrists are medical professional devoted to the study and medical treatment of ___?
Ans – Feet
Q2) Which of the following is NOT a variety of mango?
Ans – Red Dacca
Q3) Long Island Iced Tea is a popular thirst-quencher during the hot summers. How much tea goes into a glass of Long Island Iced Tea made by a traditional recipe?
Ans – None
Q4) There is a theory that the universe will come to an end when its ever-increasing rate of expansion causes all matter to basically fly apart. What is the term applied to this theory?
Ans – The Big Rip
Q5) He adapted a lecture at the University of Dhaka on the theory of radiation sent it to Albert Einstein who translated it German, and had it published in 'Zeitschrift fur Physik'. Rabindranath Tagore dedicated his only book on science, 'Visva–Parichay' to him. Who is he?
Ans – Satyendra Nath Bose
After answering all 5 questions correctly, you will get a Congratulations message that you have been entered into a lucky draw. Now keep your fingers crossed and wait for the results to be announced.
Terms and Conditions –
This Contest will commence on 3rd May 2019 from 08:00:01 a.m. (IST) to 12:00:00 p.m. (IST) ("Contest Period")
In order to be eligible for the Contest, during the Contest Period you must sign-in to or sign-up from an account on the Amazon.in App ("Amazon.in App").
Once you have signed-in to the Amazon.in App, you can participate by navigating to the page where 5 (five) questions will be posted during the entire Contest Period.
Thereafter, if you answer all the quiz questions correctly, you will be entitled for a lucky draw which will be carried out amongst participants who have answered that particular question correctly.
The draw of lots will be carried out during the Contest Period for the questions and a total of 1 (one) participant will be selected as winners by a random draw of lots.
The declared winner(s) will be eligible for winning a Philips Air Fryer (hereinafter referred to as "Prize(s)").
Results on 30 May 2019