Sacred Games S02 Special Screening for OnePlus Users!
Own a OnePlus Device? OnePlus here bring another perk for you guys. If you love Sacred Games & you are a fan of Sacred Games Series by Netflix then you can attend a free special screening of Sacred Games S02 organised by Netflix & OnePlus. All you need to do is to follow below mentioned steps carefully & go & watch the special screening.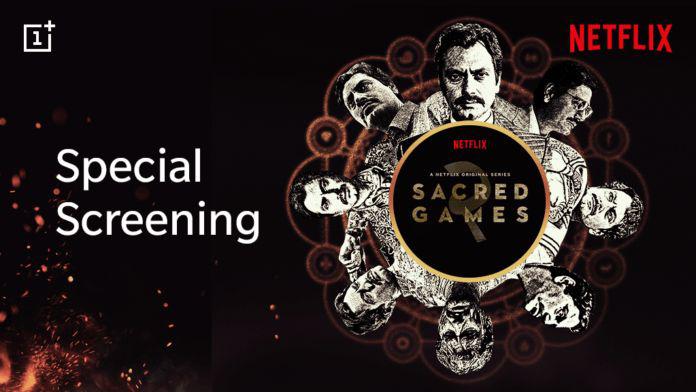 Recently Netflix had Partnership with Oneplus, you must have seen their collaboration video where Bunty Unbox OnePlus's 7 Pro Device, Its hilarious i know. Now They are offering Free Special Screening to OnePlus Users.
How To Register for Special Screening at Insider ?
Click on Below Mentioned Venues, Which ever venue is in your city you can register for that.
Mumbai: PVR Phoenix Mall, Lower Parel – 7 PM
Register Here (Mumbai Users)
Delhi: PVR ECX Chanakya, Chanakyapuri – 8 PM
Register Here (Delhi Users)
Bengaluru: PVR Forum Mall, Koramangala – 8 PM
Register Here (Bengaluru Users)
Hurry up, Its Getting Sold out Really Soon!
Terms & Conditions:-
Age limit: 16+
Only guests with a OnePlus device can register.
Entry will be on first come, first served basis.
Please carry a valid ID proof along with you.
Seats will be available on a first come basis
No refunds on reserved ticket are possible, even in case of any rescheduling.
Security procedures, including frisking remain the right of the management.
No dangerous or potentially hazardous objects including but not limited to weapons, knives, guns, fireworks, helmets, lazer devices, bottles, musical instruments will be allowed in the venue and may be ejected with or without the owner from the venue.
The sponsors/performers/organizers are not responsible for any injury or damage occurring due to the event. Any claims regarding the same would be settled in courts in Mumbai.
People in an inebriated state may not be allowed entry.
Venue rules apply.