Toluna Surveys Loot – Earn Free Gift Vouchers : Here's another loot opportunity for all of you. Register on Toluna and you will get a chance to fill daily 3-4 surveys. Earn Points on Toluna for participating in surveys and you can redeem your points as Rewards such as Amazon, Flipkart, Nykaa, BigBazaar,PayPal Gift Vouchers. Isn't amazing?
About Toluna : Toluna Influencers are everyday people just like you, connected to many via multiple digital media channels including our online community. As a Toluna Influencer, you are empowered to transform the products and services that matter to you! Share your opinion by answering our surveys, inspire change in real time.
At Toluna your participation is recognized and you will be awarded points that you can exchange for cash and/or rewards.
Toluna Surveys Loot Overview:
Redeem Points as PayPal, Amazon, Flipkart,etc
Good amount of surveys daily – around 3-4
Each survey almost gives you upto 2000 points
Survey length is shorter compared to other sites
Less Disqualifications Rate!! So its Less Annoying!
Recently we posted about – Panelstation Survey loot, where many of our subscribers had redeemed Rs 300+ Flipkart gift cards for free. That offer is also live, check it out.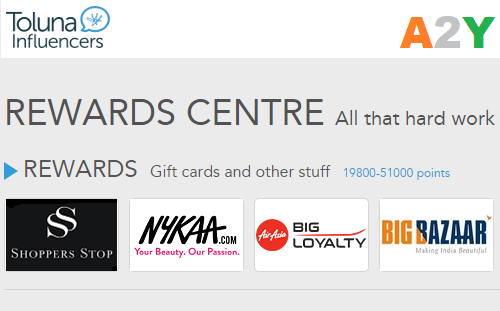 How to Avail Toluna Surveys Loot?
Fill Out Your First Name , Last Name , Your Date Of Birth & Gender
And Fill Out Your Correct Email Address.
Important: As you need to verify your email address & Surveys will come here only
Now you will see they will ask your personal details (Follow below)
Fill it as we mentioned below –
Maximum Level Of Education – Graduate / Post Graduate Professional
Household Yearly Income (Gross): Give higher Income
Employment – Select Any
Are You Responsible for shopping in your household? – Yes
Number of Children – Above 1
Number of People in Your House – Above 3
Now Most Important Step
Please choose State – Anyone as provided below
Please choose sub-province – According To Your State, select corresponding city
Street Address: Fill any thing
Only Fill This City & Pin codes – Otherwise You Will Disqualify Instantly (They Require people from select regions only)
Cities: Kanpur, Indore, Jaipur, Vadodara, Surat, Nagpur, Lucknow, Bhopal, Coimbatore, Chandigarh, Vishakapatnam, Ludhiana, Varanasi, Allahabad, Rajkot, Madurai, Patna, Kamrup,khordha (You Can Google Pin Code For This Cities)
Now Finllay Click on Submit Button
Then Check Your Email Box & Just Verify The Email You Received From Toluna (Check Out Spam Folder too)
If Email is Not Coming then click On Resend Verification – it can take upto 5 mins for email to Receive!
Invite Your Friends & Earn
Click On Menu > Your Account > Invite Friends
You Will Receive 500 Points On Each Successful Invite
Toluna India Proof (Verified Site)