We chat is back with a new offer – Get Free PayTm cash, Surprise Gifts, Coupons, Chance to win Moto and iPhone & lots more. We all already aware of Wechat – one of the widely used Messaging Service for Smartphones. Each month they are bringing special offers for their Loving Users. You just have to do small and simple activities per day to win big.
Offer Source – Click Here
How To Get The Offer :-
Open App > Sign in / Sign up for a new account.
Wechat will credit Rs.250 Points in each Wechat accounts on 1st March.
Ensure that you perform the activity listed below daily – Missing out a day will lead to loss of money from your wechat account .
You have to Share any of the Wechat sticker in New or Existing Wechat group with minimum 3 Peoples – Do it Daily to maintain your Balance.
Activities you have to complete continuously for 25 Days. Redeem your Earnings between 26th & 31st March.
WeChat Redemption :-
Rs. 250 Free Balance will be added to your account on 1st March. Rs.10 will be deducted/day in case of no activity.
To maintain your free balance, just share stickers in a new or existing group of friends daily till 25th March. You can maintain Rs. 10/day for completing activity.
Tap on 'My Balance' & click open the balance message received to redeem your balance.
You can redeem the vouchers you want with your We chat balance. Redemptions will start from 26th March 2016 at 11:00 AM and Ends on 31th March. Below are the Vouchers and Prizes one can win.
WeChat Rewards :-
Send a sticker on 15th March. 1 Lakh lucky users will get a surprise gift (Free WeChat balance is the surprise gift).
Below are the Rewards & Balance required to avail them. Each offer can be availed once through your WeChat Reward balance.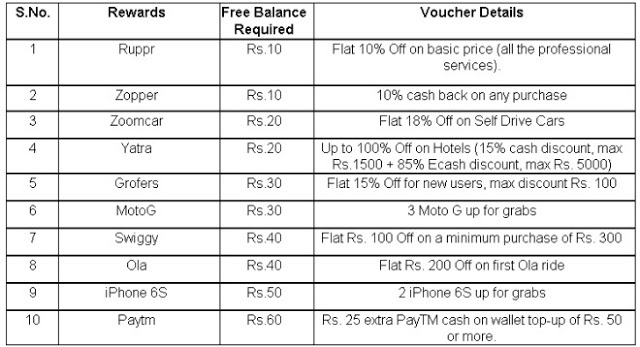 To know your Balance and Other Offer Details You can Visit WeChat offical account in Wechat app > Rewards > My Balance / Know more.