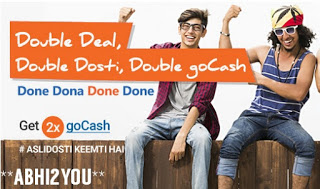 Goibibo introduces the GoCash+ with no restrictions on how & where you redeem it. You Can earn Rs.500 GoCash+ Easily by referring 5 friends (Valid only on first 5 refers). Redeem 100% GoCash+ on Hotels & Domestic Flights.
You get 1000 goCash, for every referral + 500 goCash+ on 1st 5 Referrals & Your Friend gets 2000 goCash
Source – Visit Here
How to Get The Offer :-
Open and Sign up for a New Account.
Sign up using our Referral Code – "A682658" (Important to avail Rs.2000 goCash Bonus)
Verify your mobile number and Get Started.
Congratulations! You will get Rs.2000 goCash as a Sign Up Reward (Not 100% Redeemable)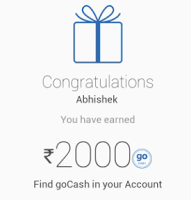 How to Earn goCash+ :-
Simply Goto Menu > Refer & Earn
Copy your Referral code & Share it with your friends
Once you have referred atleast 5 friends to Goibibo you will receive Rs.500 goCash+ as a reward.
Promotional Rs.500 goCash+ will expire in 90 days is issue. So use them before it expires.


Extra Bonus :-
For Every Refers ,you are not just Getting Rs.1000 Go-Cash but when your Referred User do any Transaction – You will be given Additional 10% GoCash of the Booking amount. In addition to it you will even get a one night free stay at any hotel nearby.
Redeeming Terms of goCash :-
Hotel Booking – 25% upto Rs.4000 | 100% goCash+
Domestic Flight Booking – 5% upto 500 | 100% goCash+
International Flight Booking – 5% upto 2500 | 100% goCash+
Bus tickets – 10% upto 100 | 100% goCash+
Packages Booking – 10% upto Rs.2500 | 100% goCash+
What is goCash+ ?
Earned by Cancellation of a booking for which the payment has been made using credit card/debit card/net banking.
goCashPlus earned from Cancellation has unlimited validity.
Also earned by participating in various Promotional Activities of goibibo (e.g. Refer & Earn).
goCashPlus earned from Promotional Activities has validity of only 90 days from the date of issue.
NO USAGE RESTRICTIONS for goCashPlus
goCashPlus usage is subject to taxes.
goCash/goCashPlus = INR 1
Know more – Click Here
Terms & Conditions :-
Offer includes 500 goCashPlus (having NO USAGE RESTRICTION) for 5 friend REFERRED SUCCESSFULLY.
REFERRED SUCCESSFULLY = friend SIGNING-UP on GoIbibo Mobile App with your Referral Code.
This offer is live from Apr 12, 2016.
Any referral made before that wouldn't be awarded the goCashPlus.
You will get 500 goCashPlus ONLY for the first 5 successful referrals post Apr 12, 2016. You would receive your goCashPlus in 24 working hours.
500 goCashPlus can FULLY be used to book Flights, Hotel, Bus & FPH.
On download, your friend (first time user) will earn Rs. 2000 goCash
10% of your friend's booking amount will be credited only after user's travel date is past. If he cancels the ticket before that, you won't get referral goCash.
Do Share the Knowledge and let your Friends to Know about the Deal !