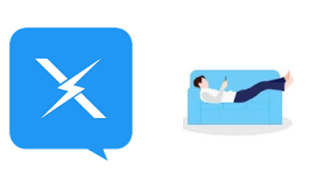 Make anything happen with a simple message with MagicX – Artificial Intelligence powered Chat from MagicTiger. Install MagicX, choose from one of the categories, send us a text message and we will get it done in a jiffy – faster than anyone else.
As a promotional offer MagicX has credited Rs.20 in all old MagicX Accounts. Use them asap before they revoke it. If you have credited MagicX account before & haven't yet recharges then see you must be having Rs.40 in your wallet. New users are not eligible for this extra Rs.20 credits
MagicX Credits can be used a minimum Recharge/ order value of Rs.50 or more
How to get the Offer ?


Just open the app after installation process is over, Enter your Phone Number, Email & Referral code – 508V1P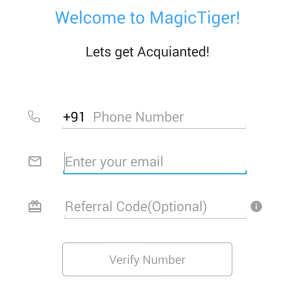 Verify the mobile number using one time password (OTP) Sent.
Once verified, You are ready for your first recharge (Make your first recharge of Rs.50 or more).
Congro! You will Get Rs.20 for free credited into your Magic Credits.
On a Recharge of Rs.50, You will get Rs.20 Discount and pay Rs.30 via your Paytm Wallet.
In order to recharge just use the chat feature, one of the executive will be there to make your recharge.
After your first Transaction you will get Rs.10 in addition as a referral bonus.
So You have paid Rs.30 in total & Received Rs.50 Recharge + Rs.10 Cashback = Rs.60
Refer & Earn :-
Simply Goto Menu > Click on Share & Earn option.
Immediately, You will get your referral code displayed. Start sharing this app with your friends.
If your friend Register on magicX app using your referral code and makes his first transaction of Rs 50 or more, you will get Rs 10 Magic Credits
Start Sharing & Start Earning!
Related F.A.Q :-
Q: What kinds of things can I use MagicX for?
Ans: Ordering groceries, paying phone and other utility bills, recharging your prepaid number, booking events. As long as it's legal. 😀
Q: How quickly will I get what I want after requesting it?
Ans: Within seconds. That's what Max is for.
Q: How much does it cost?
Ans: You pay for the service you use.
Q: What about the purchases that I make through MagicX?
Ans: No paying extra for the purchases. In fact we will make sure you get the best deals and prices for what you purchase.
Q:
How do I know how much time I am being billed for?
Ans: You will only be billed for what service you use or for what you purchase. Upon request, you can put time limits on tasks and receive alerts when certain amounts of time have been used. We told you we are here to make life very simple, right?
Q: Where is MagicX available?
Ans: Pan India