Droom – Founded in April 2014 in Silicon Valley, Droom is India's first & largest marketplace to buy and sell new and used automobiles and automobile services. Droom has taken a completely innovative and disruptive approach to build trust and pricing advantages for buyers.
Droom understands why trust is the most important thing when you are going to buy a used vehicle. Buying a used automobile from an unknown person or dealer is full of pain points, friction and pitfalls.
As a promotional offer, they are offering a branded Bluetooth Headset at Rs 99 only in an exclusive flash sale on 20th June, 2018 at 11:00 AM. Register now to take part in the flash sale!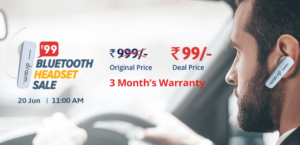 How to Get Blutooth Headset at Rs 99 from

Droom
1) First of all, Visit Blutooth Headset Sale Page Here
2) Enter your Mobile number, Email & Name and Submit.
3) Now You are Registered for Sale.
4) On 20th June, 2018 at 11AM Visit on Same Link.
5) Click on the banner.
6) Login/Sign up on Droom.
7) Add the Car Perfume to your Shopping.
8) Apply Coupon:- 20JUNEBTHS99
9) Pay Rs 99 online
10) You will get the Blutooth Headset within few days in your Shipping address
11) Enjoy !!