You must have heard about credit cards but the bank does not provide that card to everyone because credit cards provides you the seamless possibility to make purchases, balance transfers and/or cash advances and requiring that you pay back the loan amount in the future. Unlike Debit cards where you can only use the amount you already have in your bank account.
Credit cards have a certain limit fixed by the bank, you can only withdraw that much amount only. Moreover, there are always great reward offers running on Credit Cards, you may also use them to buy products on EMIs easily, sites like amazon, flipkart offers No Cost EMIs also. So you are not burdened to pay the huge interests normally a bank/ loan provider charges.
When using a credit card, you will need to make at least the minimum payment every month by the due date on the balance. If the full balance for purchases is not paid off, interest charges will be applied. Interest charges will be applied from the date of the transaction for balance transfers and/or cash advances.
So Credit cards are great and have more advantages than its cons. But while using a credit you always make sure to keep checking the transactions, sometimes companies like insurance sector companies directly call you and ask to get a insurance, they automatically activate such service & you would be charged monthly for it.
Moreover, if you pay the minimum amount every month (30-45 days cycle depends on the bank), then bank will not charge interest, but if you doesn't pay the minimum amount the bank would start charging interest on it which is every high on credit cards.
Important Notes/Eligibility for

Credit

Card :-
Your Income is important parameter for Credit Card Eligibility. You must be earning enough money so that you can pay your credit card bills monthly basis easily.
Existing relationship with bank fastens the process – If you are an old account holder of the parent bank and have a good turn over ration in your account it will fasten the process.
Your past credit history matters – If you were a defaulter in your load account of anything like that you may face some issue by the bank
Be clear about the purpose of credit card – There are many credit cards available in the market, each one is good but you must have a clear purpose of the usage of your credit card to get the best out of it.
Choose Free / Annual fee Credit Cards: Some Credit card comes with free for lifetime, but if you have heavy usage then go for premium cards which have some annual fee starting from Rs.99/p.a.
Apply for Credit Card Now & Get Instant Approval
How to

Apply

for Credit Card In India :-
Instead of directly opting some bank's credit card, use sites like BankBazaar & get the best credit card deal upon your requirement. Bank Bazaar will generate a credit score upon your details & provide you the best Credit Card offer for you
Start filling up the form with your accurate details
Make sure your Income should be more than 35k per month and Age above 25 years.
Now Fill in Personal Detail on Second Page
BankBazaar will provide you a list of cards suitable for you, most of them will offer you free vouchers of Amazon, Bookmyshow, etc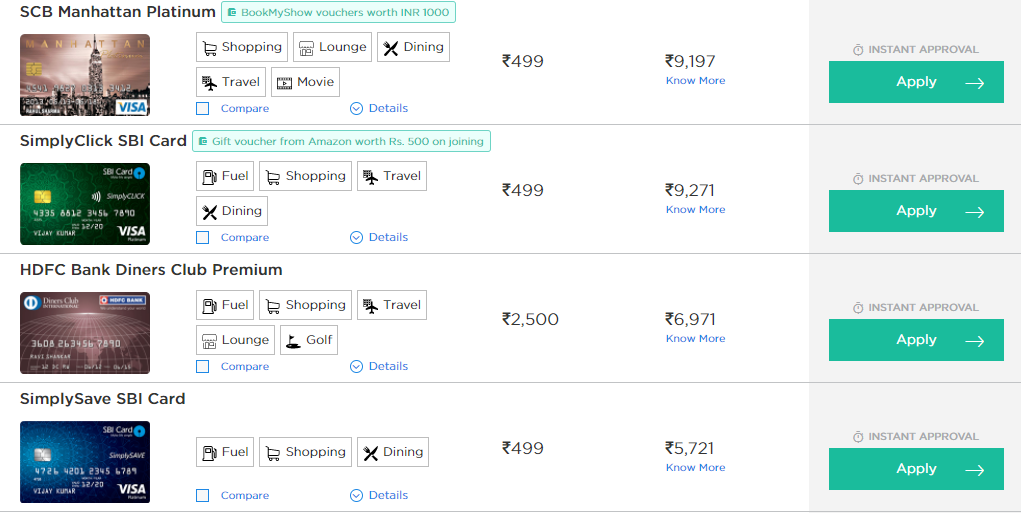 Choose the best card suitable for your need & Click on 'Apply' Button
Proceed with the formalities & get instant approval on your credit card.
That's it! Enjoy the seamless benefits of a credit card.
2nd

Method

:-
Visit your Bank Branch & Tell the executive that you want a credit card
They will check your Bank Track-records and your relationship with the bank
Once approved, they would provide you the credit card!