LimeRoad Loot- Cut The Price & Get Free Products
LimeRoad is now offering, Cut the Price deal, where you can free products by sharing it with your friends. Tell them to open the link & help you to get the product for free. Each friend contribute & took the product price down. Avail this LimeRoad Loot Now & Order Free Products. Also Check this offer- OYO Refer & Earn- Get ₹50 Paytm Cash Free per Refer
About LimeRoad: LimeRoad is An Most popular Fashion & Lifestyle E-Commerce Website in india. Earlier, Desgined Exclusively For Women who love to discover all things beautiful, it has now also as a game canger in the 21th Century Man Shops. It Promises style Update Every 30 Second on You are Alwayes On- Trend !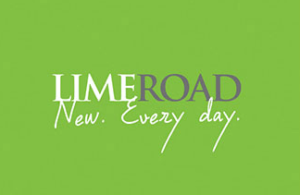 How to Get Free Products from LimeRoad?
Firstly, Visit LimeRoad Offer Page from Below Link from your Default Browser
Click on 'Cut The Price X' Button

Enter Mobile Number and Submit
Enter the OTP code received
Now Choose 'Free Products' Option
Choose any product you want to get it free
Share your link on Whatsapp, facebook, etc with your friends
Note- One unique user can help upto 3 friends to cut the price. So do help others :')
Each click can cut Price Randomly (0-100)
New User Price Drop- ₹15-₹35
Existing User Price Drop- ₹1 - ₹5
You can check your progress in my cutting section.
Comment your links & We will try to cut price of each link. its a request from users to help other users also in the comment section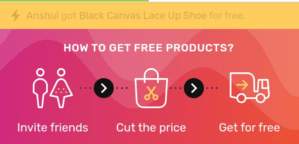 How to Claim Free Product?
Once your Progress is completed
Click on 'Claim this Product' Button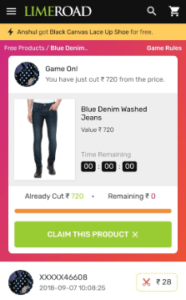 Select Size & Continue to Proceed
You will see the discounted Price
Place your order! That's it!
LimeRoad Cut The Price Terms
Customers can get products free by simply participating in the game. No payment is involved.
Choose your favourite product, invite friends to help you cut the price. As long as price is cut to Rs 0 within 24 Hrs, you will get product for free. All the cost of product and shipping is borne by Limeroad.
You can start as many "cut the price" as you like. Although Likelihood of success is more if you start only one at a time.
Your friends need to verify their mobile number to help you cut the price.
You can help upto 3 friends to cut the price, value of second cut is lower than first cut and so on. For the same "cut the price" you can only help once.
After you have successfully cut the price to Rs 0 , you can claim your reward by clicking on "Claim" button , we will give you LR credits (1 Credit = ₹ 1) equal to the selling price of the product in your Limeroad account.
You can place order for the product at Rs 0 after choosing size and selecting delivery address and applying LR credits claimed on checkout.
If the product goes out of stock or your size is unavailable, you can use those LR credit to buy anything on Limeroad.
Comment down your links & Get price cuts for free 🙂