Vodafone Youth Offer – MyVodafone app gives you a one-stop solution for managing your Vodafone account, Vodafone postpaid online bill payments, Vodafone recharge packs, buying Vodafone data packs (2G/3G/4G), tracking Vodafone data usage and balance and availing exclusive 121 offers.
Now get 1 year of amazon prime membership worth Rs 999 at just Rs 499, Offer is exclusively for Vodafone customers through MyVodafone app.
Also See- Amazon UPI Offer – Flat Rs 50 Cashback on Add Money/Recharge/Shopping
What is Amazon prime?
Prime membership includes FREE fast delivery on eligible items,unlimited streaming of the latest TV shows and movies, tens of millions of ad-free songs & much more. Under the 'Youth offer for Prime', you get 50% off 1-year membership.

Valid for prepaid users only | Source / TnC – Click Here
Eligibility?
This offer is valid only for Vodafone prepaid customers who are 18-24 year old.
How to Avail Vodafone Youth Offer?
Login with your vodafone mobile number
There you will see offer above on the app
Click 'Grab it' or 'GET IT NOW'
Click on 'Agree' and pay Rs 499 Now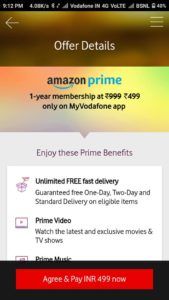 You will only get the offer if The Aadhar card from which you have bought sim is having age 18 to 24 only
Now Pay 499 using any payment method
After paying, login to your amazon account.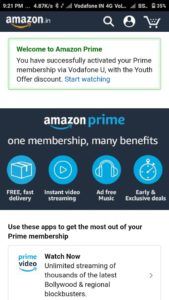 Done! Enjoy your 1 year subscription of Amazon Prime
Terms & Conditions:
1. This Youth Offer on Amazon Prime ( "Offer" ) is provided to you by Amazon Seller Services Private Limited ( "Amazon" ).
2. This Offer is valid from July 01, 2018 to June 30, 2019 (both days included) ( "Offer Period" ) unless revoked or extended by Amazon in its sole discretion, without any prior notice and without liability. Vodafone Youth Offer
3. You agree that, by participating in or availing this Offer, you will be bound by these terms and conditions ("Terms"). These Terms are in addition to the Amazon Prime Terms and Conditions. To the extent the Amazon Prime Terms and Conditions are inconsistent with these Terms; these Terms will prevail with respect to this Offer only.
4. You will also have to abide by separate terms and conditions as stated by Vodafone India Limited and Vodafone Services Limited collectively "Vodafone India" for availing this Offer as outlined in www.vodafone.in/amazonprimeterms
5. This Offer is valid and can be availed only if you are: (i) located in India; (ii) an active and registered Vodafone prepaid-mobile subscriber; and (iii) of age between 18 to 24 years ("collectively, "Eligible Participant" ), during the Offer Period.
6. Subject to these Terms, if an Eligible Participant purchases a new annual Amazon Prime membership through Vodafone India, during the Offer Period, he/she will be eligible to receive a 50% discount on fees for such annual membership ( "Offer Discount" )
7. There are no cash or other alternatives available in whole or in part, in relation to the Offer Discount under this Offer. No requests for transfer or assignment of the Offer Discount under the Offer shall be entertained. Vodafone Youth Offer
8. No refund of fees is available if the Eligible Participant chooses to discontinue/cancel his/her Amazon Prime membership acquired pursuant to this Offer.
9. You will automatically forfeit your claim to the Offer DiscountBenefit if you do not meet the aforesaid eligibility criteria (as provided in clause 4 above). Further, Amazon reserves a right to cancel your Amazon Prime membership, availed under this Offer, without refund or any other liability, if you falsely represent your age or do not meet any of the aforesaid eligibility criteria.
10. This Offer is not available to Eligible Participants who (a) are already having an existing Amazon Prime membership; or (b) purchases Amazon Prime membership directly on www.amazon.in.
11. This Offer is made available on "best-effort" basis and participation is voluntary.