Foodcloud connect foodies to chefs who make delicious and authentic food that is not available in restaurants! Now Foodcloud is offering an amazing refer & earn offer where you can get Rs 200 worth Credits on Sign up which is 100% redeemable.
Flat 200 off by using code mentioned below + flat 100 signup credits (both cant be used in same order) also On most chef's min order is around 240 rs ( even if it mention 300 rs but working on min 240)
Also Get to know that foodcloud munchies delivered all india & Food delivered in Delhi-NCR, Kolkata and Mumbai. Loot lo!
Available in most regions of india + all india delivery!
How to get the offer?
Note– Dont use facebook to signup as it wont give any credits
Enter your required details
Use Referral code – 'akb35704'
Verify your Mobile Number
You will get Rs 100 Referral Bonus
Now Visit Here- https://www.foodcloud.in/index.php?route=account/referral/coupon
Add coupon BIRTHDAY200 for 100 Discount extra (In Total 200 off)
If you live in delhi then you can use the 200 credits fully to order food
But if you are from any other part of india, then visit here and order these products – https://www.foodcloud.in/munchies
Now Place your first order for free! Loot Now!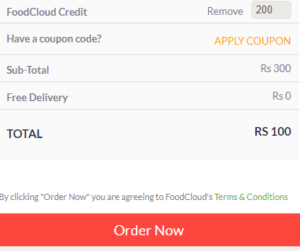 Refer & Earn
Goto Account > Share Foodcloud
Get your refer code & Share it with your friends
Every time a friend signs up with your invite code, they'll receive a free credit of worth Rs 100. Once they shop with us, you'll also receive a free credit of worth Rs 100 into your FoodCloud account.
Pro Loot Tip
Create As Many Account As You Can.Suppose You Want To Create 4 Account (A,B,C,D).While Creating Account B User Refer Code Of A, In Account C Use Refer Code Of B, In Account D Use Refer Code Of C.Now Just Order Food From Account D. Suppose Your Cart Value Rs.300, Use Rs.150 Joining Credit While Ordering.As Soon As Your Order Delivered. You Get Rs.300 In Account C (Rs.150 By Registering+ Rs.150 Referral)Now Just Order From Account C. No Need To Pay Extra Till Rs.300. Just Order Free.Follow Same Steps In Account B & A.So Finally You Got Rs 1200 Food In Just Rs.150.